#ExpertView: Sheraz Dar, CEO of CreditLadder discusses 'How rent reporting is improving future prospects for tenants'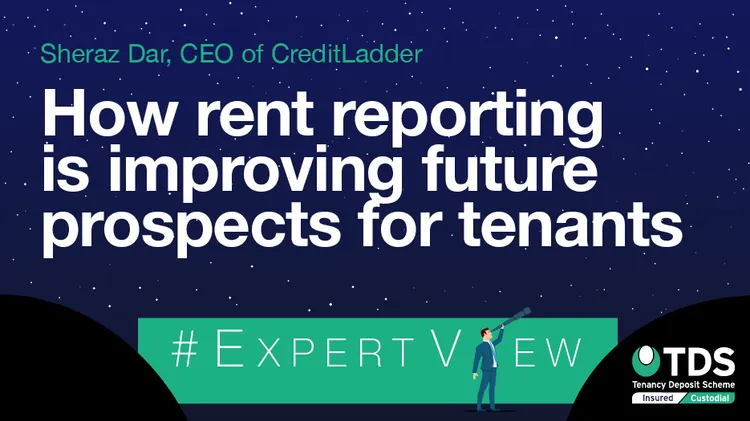 Tenancy and technology go hand-in-hand these days. It seems a long time ago that rental properties were only listed in estate agent windows.
From property promotion and tenant deposit protection to inventories, contracts and referencing, the process of finding a property and moving into one has now become a much more efficient, digital experience.
Rent reporting
The latest technological development to join this digital revolution is 'rent reporting'.
Rent reporting enables tenants to automatically report their rent payments to credit reference agencies, which are then added to a tenant's credit profile. This can,as Experian confirmed recently, help to improve tenants' overall creditworthiness.
Why creditworthiness matters
Creditworthiness means access to affordable credit, which is an increasingly important part of life and survival these days.
From mobile phones and utilities to loans, credit cards and mortgages, suppliers of financial products use creditworthiness to assess a person before giving them the green light.
Importantly, providers also use it to work out what interest rate to charge. The lower your credit score, the riskier lenders think you are, which can lead to higher interest rates on personal loans, for example.
Until recently, most renters with low credit scores faced an uphill struggle to improve them. This is because, unlike mortgage payments which count towards someone's credit profile, rent payment did not. That is until now…
Rewarding prompt rent payers
Fintech platform CreditLadder, a long-established rent reporting platform in the UK, is making it possible for rental payments to count towards credit ratings.
CreditLadder is an online solution that can help tenants improve their credit position, and ultimately pass referencing more easily, by proving they are good payers and able to pay their rent on time to prospective landlords.  This historical data is a win-win for both landlords and tenants as it shows the level of risk or trustworthiness when it comes to finances.
"It is not often that technology can claim to dramatically improve people's lives, but the arrival of our online rent reporting service is already revolutionising the way people manage their finances, and is rebalancing the system of credit referencing to give tenants the credit they deserve," says Sheraz Dar, CEO of CreditLadder.co.uk.
Tenants can use the CreditLadder service for free and immediately start adding their monthly rent payments to their credit profile. Visit www.Creditladder.co.uk to start.
Look out for the next blog explaining how rent reporting is proving to be beneficial to landlords too)
About TDS
Tenancy Deposit Scheme (TDS) is a government-approved scheme for the protection of tenancy deposits; TDS offers both Insured and Custodial protection and also provides fair adjudication for disputes that arise over the tenancy deposits that we protect.
Landlords, protect your deposit today! Click here: TDS Insured
Are you a RLA member?
You can access our best rates if you are a member of the Residential Landlords Association (RLA) – simply log in to your RLA account and go to the DepositGuard section.