#ExpertView: Right to Rent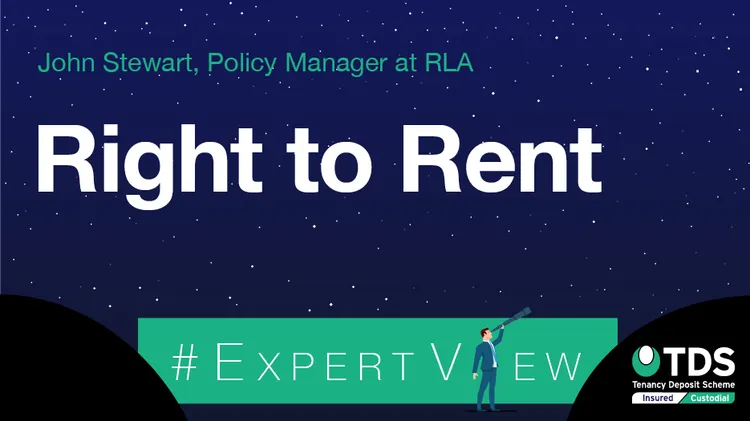 Tenancy Deposit Scheme (TDS) partner organisation, Residential Landlords Association (RLA), campaigns to improve the private rented sector (PRS) for both landlords and tenants, engaging with policymakers at all levels of Government. Here, John Stewart, Policy Manager at RLA, explains the need for clarity on what a no deal Brexit could mean for EU nationals' rights to rent.
It is a topic that's never far away from the news headlines: Brexit. Deal or no deal, landlords want answers, and the RLA is calling on the Government to give them some.
Recent analysis of the English Housing Survey by the RLA PEARL shows that as many as 66% of EU nationals (excluding those from the Republic of Ireland) live in private rented housing.
Currently, all EU nationals have the automatic right to rent property in England, under the Immigration Act 2014 (different laws may apply in Wales, Scotland and Northern Ireland). Unless the law is changed, this will continue to be the case, whether they are currently in the UK or arrive after the UK leaves the EU.
With talk of a no deal Brexit, the RLA is advising that swift clarity is needed about what that would mean for EU nationals' rights to rent a property. Failure to issue new guidance could mean that landlords will be left in the dark about whether they should continue tenancies that are coming up for renewal, or whether they should agree new ones for EU nationals at all. The RLA has written to Brexit Secretary, Dominic Raab, about these concerns.
Under the UK Government's Right to Rent policy, English landlords face the threat of potential criminal sanctions, where they know or have "reasonable cause to believe" that the property they are letting is occupied by someone who does not have the right to rent.
Like members of the Windrush generation, some EU family members with the right to be in the UK will not have the paperwork they require. The RLA is calling for action now to avoid a repeat of the Windrush scandal earlier this year by ensuring that EU nationals who have the right to rent can easily prove it to their landlord.
In October, we also joined forces with campaigning group 'the 3million', to write to Home Secretary Sajid Javid to ask for hard copy documentation, and clarification of the legal position of EU citizens in the UK, post-Brexit.
This is not the first time the RLA has been vocal on the topic of Right to Rent.
Earlier this year, the RLA announced that it is supporting a legal challenge of the policy, put forward by the Joint Council for the Welfare of Immigrants (JCWI).
In June, the JCWI were granted permission to launch a judicial review, which will be heard in the High Court in December.
The RLA is supporting this judicial review because it believes that, at the moment, landlords are being put in the impossible position of acting as untrained Border Police, trying to ascertain who does and does not have a right to be in the country. This has caused some landlords to 'play it safe' and only rent to those who have a UK passport.
Granted, some landlords do not take issue with the policy. But many are left in the unfair position of feeling confused about the checks and frightened about getting them wrong. How can they be sure if a passport is legitimate and not a fake, for example?
With the High Court hearing set for December, could it be a matter of months before landlords see tweaks made to the policy that make it less cumbersome?
Watch this space.
These views are those of the author alone and do not necessarily reflect the view of TDS, its officers and employees.
About the Author
John Stewart – Policy Manager, RLA
John is the Policy Manager for the RLA. He has over 20 years' experience working in politics, as a successful election agent, MP's assistant, local councillor and council leader, and is a former charity chief executive.
He oversees RLA policy work across all levels of Government – central, devolved and local – working to ensure that landlords' views are represented, and officials, MPs, Assembly Members and local councillors have key information and evidence about the PRS before they take decisions.
About TDS
Tenancy Deposit Scheme (TDS) is a Government-approved scheme for the protection of tenancy deposits; TDS offers both Insured and Custodial protection and also provides fair adjudication for disputes that arise over the tenancy deposits that we protect.
We provide invaluable training in tenancy deposit protection and disputes for agents and landlords through the TDS Academy as well as joining with MOL to provide the Technical Award in Residential Tenancy Deposits.
TDS Insured Scheme: where a TDS member can hold the tenancy deposits as stakeholder during the term of the tenancy.
TDS Custodial Scheme: where TDS hold the deposit for the duration of the tenancy.
TDS Academy: TDS provides property professionals with invaluable training in tenancy deposit protection and tenancy deposit disputes.
TDS Northern Ireland: TDS is Northern Ireland's leading and only not-for-profit tenancy deposit protection scheme.
TDS can only comment on the process for our scheme, other deposit protection schemes may have a different process/require different steps. Content is correct at the time of writing.
RLA: If you are a landlord and would like to keep up to date with any changes that may affect you or your responsibilities, you can contact the RLA at: info@rla.org.uk and quote reference: dg715 to receive 25% off your first year's membership.