#AskTDS 'We have just let out our first student property, is there anything I need to consider in relation to the tenancy deposit?'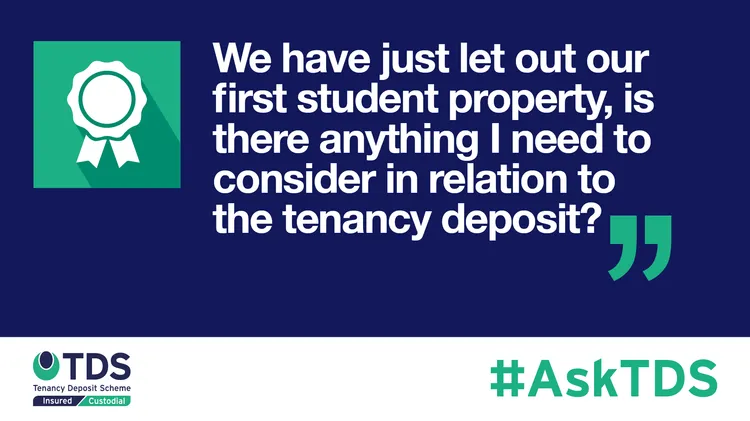 In this week's #AskTDS, a letting agent asks about tenancy deposit protection for student lets.
Whether this is your first student let or you've been letting out student accommodation for some time, you must always protect your tenants deposit(s) in a government-approved tenancy deposit protection scheme such as TDS Custodial or TDS Insured. This is a legal requirement and must be done within 30 days of receiving the deposit(s).
You must also serve the prescribed information to the tenant within this 30 day timeframe. If your students are sharing the property, you will need to give this document to each student tenant. You can do this easily through the TDS dashboard, which pre-populates the form for you to save you time.
You will need to accompany this with the following information for your tenants, which will be held in your TDS deposit management portal:
The contact details of your letting agency
The tenancy address
The value of the deposit
The name and contact details of any third party who paid the deposit – referred to in legislation as a 'relevant person', such as a guarantor or family member
The name and contact details of the tenancy deposit protection (TDP) scheme (such as the Tenancy Deposit Scheme) and its dispute resolution service
Reasons for why money may be deducted from the deposit at the end of the tenancy (for example, if a tenant damages the property and the landlord incurs repair costs) in the deposit use clause
How to claim the deposit back at the end of the tenancy (this may differ depending on which scheme you use)
What to do if there's a dispute over the amount of the deposit to be returned at the end of tenancy
A guide to tenancy deposit protection (TDP)
Change of sharers in student tenancies
Typically, with student tenancies, the deposit will be shared between multiple tenants, which can raise concerns if one or more tenants leave during tenancy.
All tenants are jointly and severally responsible for the obligations under the tenancy agreement, so it is often better to terminate the tenancy and start a new one if one tenant leaves. Changing tenant details is straightforward within the TDS dashboard, but if a sharer leaves we recommend you read this article first for best practice guidelines on shared tenancy deposits. You may also find this Guide on Change of Sharers useful.
Student Lets During Covid-19
There are additional considerations for student lets due to current requirements surrounding social distancing and hygiene.
You will need to allow extra time for check-ins and check-outs. Normally, students can move in and out the same day, but this may not be possible due to lockdown rules. Currently, you will need to schedule visits around social distancing measures and allow for extra cleaning in line with current Covid-19 guidance.
Cleanliness is of utmost importance at this time, and this may require additional instruction for your student tenants to ensure they meet hygiene standards at all times.
You will also need to consider time delays for overseas students required to quarantine when arriving in the UK. Refer to the latest government guidelines and your local authority or university for the further information.
Tenancy Deposit Scheme has been supporting letting agents with student lets for many years. If you require any further advice, please contact our award-winning customer service team.
Not a member of TDS yet? It's easy. Register your tenancy deposit today. Or, if you already have a TDP provider, our switch team make it easy for you to move over to TDS. Click here for more information

---
About the author
Sandy Bastin
Head of TDS Adjudication Services
Sandy is a qualified solicitor with many years' experience practising and specialising in real estate, Sandy joined TDS in 2008 and is now Head of TDS Adjudication Services. Sandy is responsible for recruiting and training TDS adjudicators, providing continued support and mentoring to include quality assurance activity to ensure the high standards expected from TDS adjudication decisions are met.
---
About TDS
Join TDS Custodial: Where TDS hold the deposit for the duration of the tenancy. Agents, you can protect your deposits for FREE today here.
Or you can request a personalised demo of the database to discuss how TDS Custodial could streamline your deposit protection process here.
Tenancy Deposit Scheme (TDS) is the only not-for-profit, Government-approved scheme for the protection of tenancy deposits. TDS provides impartial adjudication for any disputes that may arise over the tenancy deposits that we protect.
TDS can only comment on the process for our scheme, other deposit protection schemes may have a different process/require different steps. Content is correct at the time of writing.
These views are those of the author alone and do not necessarily reflect the view of TDS, its officers and employees.
---