7 ways your agency can become a landlord's first choice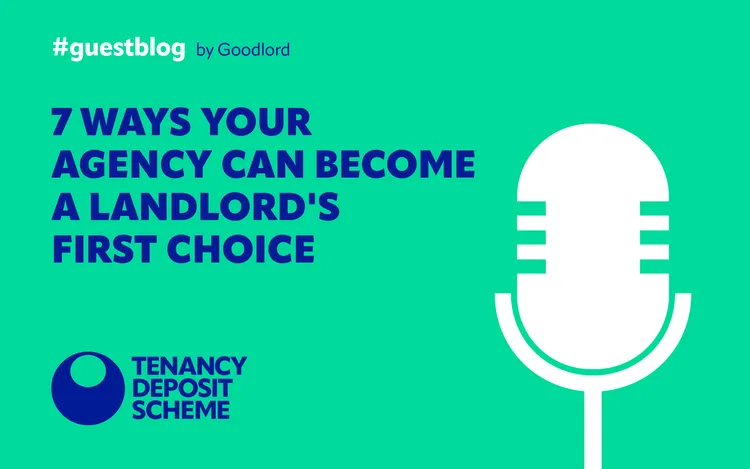 Author: Costas Frangeskou, Director of Growth, Goodlord
Agencies have many opportunities to influence a landlord about their business – from having a presence in the community to having a direct conversation. However, that also means there are a lot of steps where a landlord can lose interest in you and turn to another agent. Here are seven tips to help you capture their interest at each potential touchpoint – to become their first choice of letting agency.
1. Make it easy for landlords to recognise and get hold of you
There are some really simple changes I've seen some agents make, where the rewards are obvious. For example, having one, consistent brand.
It sounds basic but I've heard about agents that have had to change their boards because they only used their agency's initials rather than their brand name. Landlords and vendors looking to let, rent, buy, or sell can't put two and two together. This weakens awareness of your brand.
It's a similar situation for branded cars. I'm always surprised by the number of agents that don't promote their phone number or their website address on the car – or they have it so small that you can't read it unless you're standing two feet away.
Also, you need to tell your landlords that you're agents – don't assume they know what you do by just your name. These are small changes to make that will have a positive impact on how landlords perceive your brand and their ability to get in touch with you.
2. Keep your website up to date
Right now, stock is a challenge and one of the things that we're seeing from agents is that they're leaving old stock on their websites, labelled as "let", so their sites don't look bare.
Rents are still rising. July saw the highest average rental costs since Goodlord's Rental Index launched in January 2019.
If you're showing stock at less than today's market value, landlords will pick up on this and could reject you before you have even had the chance to speak with them – so make sure your website and prices are up to date.
3. Show that you're part of the local community through social media
Social media can be very time consuming but there are ways to make it quite easy to manage.
One of the tips I've learned from other agencies is promoting other businesses in your local area.
It's really simple to do – liking them on your Facebook or mentioning them in your posts. The chances are that they'll like or mention you back. They'll have followers and their followers are people that live locally.
It's a quick and easy way to get your brand out there at a low cost, without taking up too much time. Plus, you'll be showing landlords and vendors that you're involved in and care about your local area.
4. Easily find and curate relevant content for your audience
Content can be quite difficult to create consistently. However, the reality is that suppliers for letting agencies have content already available for you to update and engage with your landlords, such as the resources available through Goodlord's Newsagent. This will help grow landlords' trust in your expertise.
If you don't know what your existing suppliers have available for you to adapt or republish on your site, ask the question. I think you'd be surprised by how much they can help you with that and make it a really easy job.
5. Survey your current landlords and tenants
Agencies should be surveying their customers. Even if you get bad feedback, at least you know so you can do something about it.
You should build this consistently into your business communications, to understand what your customers really think and what areas you may have to work on to become stronger as a business.
Recommendations and the reviews will come naturally from that point, which will drive engagement from new landlords.
Similarly, you have to think of your tenants too, and the service you provide them. If the tenant is constantly complaining about you, the landlord may be more open to having a conversation with another agent.
6. Invest time in creating the best portal listing
A common misconception around portals is that they're only there to gain new inquiries from buyers and tenants.
I'd challenge that from my professional experience on the other side, being able to look at the data and see the inquiries that come through. Landlords look at the market in exactly the same way as tenants do.
Landlords look through the portals, they compare. They're looking for their next investment or to see how much their investment's worth. If you want to open up communications with landlords in your area, one really simple way to do that is through a portal.
Where you have relevant sales stock, put something on there that says "potential landlord investment".
Because, trust me – when a landlord's scrolling through a page and suddenly they're met with a line that says "potential landlord investment", there is a much higher chance they will click on the property and more chance to enquire.
7. Make sure your staff are trained to handle the common objections
You should take the time to train your more junior, less experienced staff because, if you know a question is going to be asked, why wait for it?
If you understand what objections you're going to get – because you get them time and time again – then there's an opportunity for you to actually handle the objection even before it's asked.
Imagine if you were the agent that could give a landlord peace of mind without them having to ask the difficult questions. This would help them to quickly trust in your agency's ability to take care of their investment.
---
TDS API and Goodlord have integrated, saving agents up to 10 minutes per tenancy registration. You can read more about this integration with Goodlord here.

Protecting deposits with Tenancy Deposit Scheme is quick and easy. Choose from our FREE custodial scheme, or our best value Insured scheme.
The views expressed in this content are solely those of the author alone and do not necessarily represent the views of TDS, its officers, or employees.
---