#NewsStory: Goodlord Integrates with TDS API to Streamline Tenancy Deposits for Agents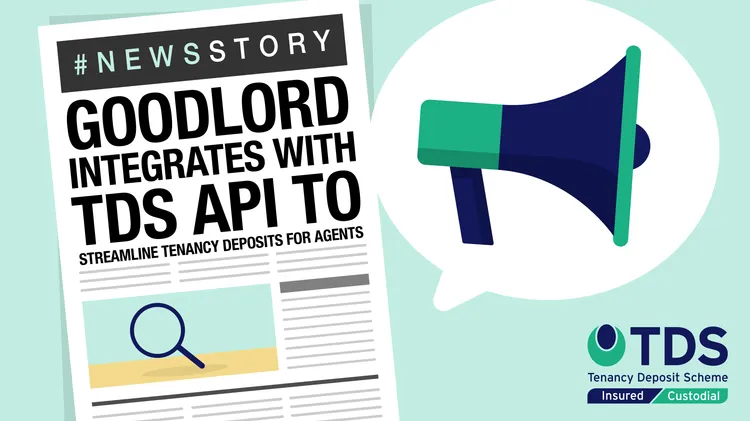 Goodlord's award-winning lettings platform now integrates with the latest API solution from Tenancy Deposit Scheme (TDS), to automate tenancy deposit registration and reduce the time letting agents spend on tenancy administration.
The integration between TDS API and Goodlord allows letting agents to register deposits at the click of a button, without the need to manually enter any data, saving time and reducing the risk of error. The TDS API automatically transfers deposit data from a Goodlord's lettings platform to the deposit scheme. According to Goodlord's research, this will save agents up to ten minutes on every tenancy.
Goodlord's lettings platform streamlines the lettings process, bringing the core elements of tenancy progression together in one place, saving letting agents time, improving compliance, and generating additional revenue.
Steve Harriott, CEO of Tenancy Deposit Scheme (TDS), comments:
"We are delighted to have Goodlord partner with the TDS API" commented CEO of Tenancy Deposit Scheme (TDS) Steve Harriott, "Their continuing mission to provide a great renting experience for their customers aligns completely with our own values of working hard to improve the PRS and make the life of agents easier."
Costas Frangeskou, Director of Sales at Goodlord, comments:
"Many of our customers have been asking for this integration with TDS, so we're thrilled that we can now offer it to them. Registering deposits is one of the most important compliance tasks a letting agent must complete as part of the tenancy process, but it can also be a time-consuming one. This integration not only saves letting agents' more time, but also reduces their risk of making manual errors."
The API feature is available to all customers of our TDS Insured scheme, and users of Goodlord. Further information can be found here: TDS API