Unsure about making a deposit dispute claim? There's a quick way to find out the key features of a successful claim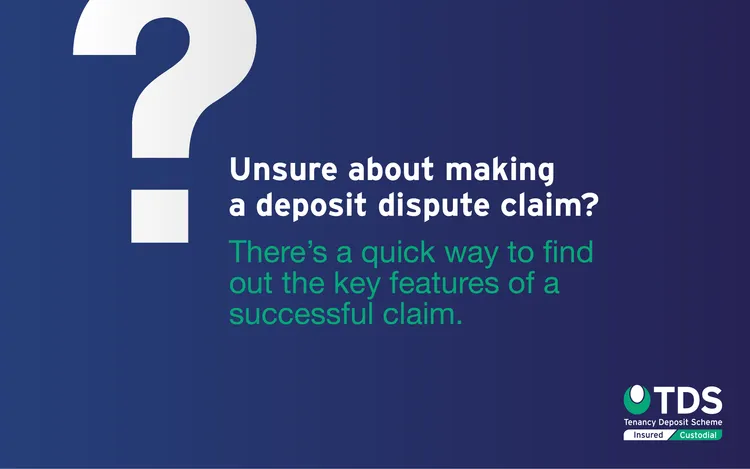 If you're a landlord or letting agent and have ever gone through a deposit deduction dispute claim, you'll know how important evidence is – and how frustrating it can be if you don't have it. Having the right information to hand can not only help you to understand whether you have a well-founded claim, it also increases the likelihood of success.
"Too often, our adjudicators see failed claims due to a lack of information or detail from check-in and check-out. By understanding in advance what you need to present in your claim, you can save time and increase the likelihood of your deduction being accepted," explained Sandy Bastin, Head of Adjudication Services at Tenancy Deposit Scheme (TDS).
To help, the in-house technology team at TDS has developed a new tool that can help property professionals quickly identify the key features of a successful deposit dispute claim.
The Deposit Dispute Chatbot from TDS
The TDS Dispute Chatbot is an intuitive online tool that helps landlords and agents to understand quickly whether they have a valid dispute claim.
Using innovative technology, you can have a quick online conversation to clarify your dispute and review your evidence.
The chatbot will tell you if you have enough evidence to pursue your claim, and will give advice on repair, replacement, betterment and wear and tear. By understanding this upfront, before you claim, you'll be able to save time in the dispute process.
"Our chatbot will walk you through the most common claims and advise on the types of evidence you need. It will also tell you what information our adjudicator would expect to see from the evidence," added Michael Hill, Assistant Head of Innovation at the Dispute Service.
The chatbot is purely advisory and confidential, and doesn't form part of the tenancy dispute process. Landlords and agents can simply use it, anonymously, to gain general guidance before they make a claim.
The chatbot is now live and free to use. Visit the TDS Dispute Chatbot to try it out for yourself.
Don't miss out on innovation in the PRS
As a future-focused, not-for-profit organisation, TDS and the Dispute Service are committed to finding innovative solutions for landlords, letting agents and tenants to make life easier for all in the PRS. If you want to be first to hear about the latest developments, join TDS today for free.