Statistical Briefing from TDS Group Highlights Deposit Increases, Dispute Trends and More Across the PRS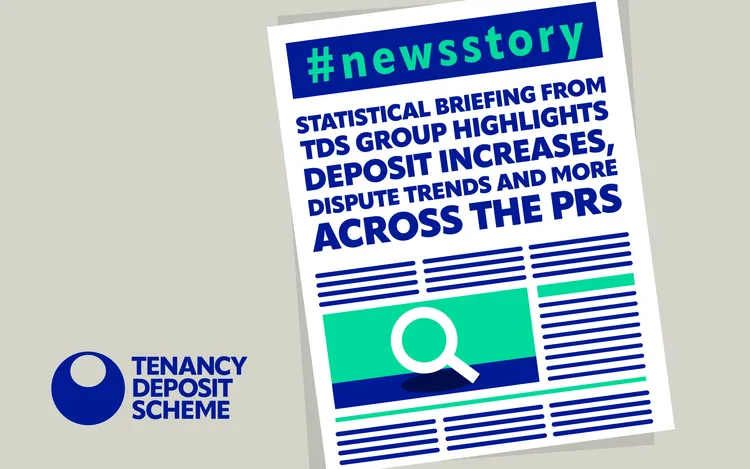 TDS Group has released its annual Statistical Briefing, providing valuable insights into the Private Rented Sector (PRS) across the UK.
The report, which compiles data from a variety of sources, including Freedom of Information (FOI) and the Office for National Statistics, analyses information such as deposit values, dispute causes, and more.
Deposits grew in number and value across the UK
According to the report, analysing deposit data from Tenancy Deposit Scheme, Tenancy Deposit Scheme Northern Ireland, and SafeDeposits Scotland, the number of deposits protected and their value is increasing across the UK.
In England and Wales, the number of deposits protected grew by 5% from the previous year, totalling 4,685,417. In Scotland, there was an increase of 5% to 259,779, and in Northern Ireland, deposit numbers at the end of March 2023 were 67,197, a 3% increase over 2022 numbers. The value of deposits has also increased, with England and Wales totalling £4,905,089,207, up by 8% from the previous year. Scotland and Northern Ireland increased by a similar percentage, to £193,701,485 in Scotland and £46,774,577 in NI.
Adjudications on the increase in most parts of the UK
The report also reveals that the three tenancy deposit schemes in England and Wales issued 36,609 adjudications in 2022-23, representing an increase of 6,912 from the previous year.
However, in Northern Ireland we saw a 6% decrease from last year's dispute figures, with 460 disputes recorded.
The consistent experience of the schemes is that disputes are raised in a low proportion of cases, typically fewer than 1% of tenancy deposits protected.
Dr Jennifer Harris, Head of Policy and Research at TDS Group, comments:
"By providing the only free national ADR services specifically designed for landlord-tenant disputes, tenancy deposit protection schemes play a crucial role in assisting landlords and tenants to resolve disagreements without having to resort to costly court action. The number of disputes resolved by these schemes in 2022-23 clearly demonstrates their value. Across the UK, in 2022-23 the schemes resolved over 40,000 deposit disputes. These cases would have put significant pressure on already over-stretched court systems."
Reasons for deposit disputes in 2023
Further insight from the report reveals that the main reasons for deposit disputes are remarkably consistent across the UK, with cleaning being the number one reason. The TDS data shows that cleaning claims are included in the majority of disputes across the UK. Damage to fixtures and fittings remains the second-highest reason for disputes.
Steve Harriott, CEO at TDS Group, said, "It all points to the importance of landlords/agents having good check-in inventory reports and check-out reports, as these will provide clear evidence to support any cleaning or damage claims. For rent arrears disputes, we need to see the rent account statements to confirm that rent is owing."
Download TDS Group Statistical Briefing
The industry-renowned report provides valuable information for property professionals, landlords, and letting agents. It is available for free download here.
---
Not with TDS?
TDS Group is the leading tenancy deposit protection and resolution service provider in the UK making life easier for tens of thousands of agents, landlords, developers, and millions of tenants and homebuyers. We're backed by Propertymark, Royal institute of Chartered Surveyors (RICS) and the National Residential Landlords Association (NRLA).
Through our charitable foundations we are working to improve standards in the Private Rented Sector. TDS is a not-for-profit company with offices in Hemel Hempstead, Glasgow, and Belfast.
If you have not yet joined the free TDS Custodial deposit protection scheme or the best-value Insured deposit protection scheme, it's simple to switch!