#NewsStory: TDS launch the 2019-2020 Charitable Annual Review!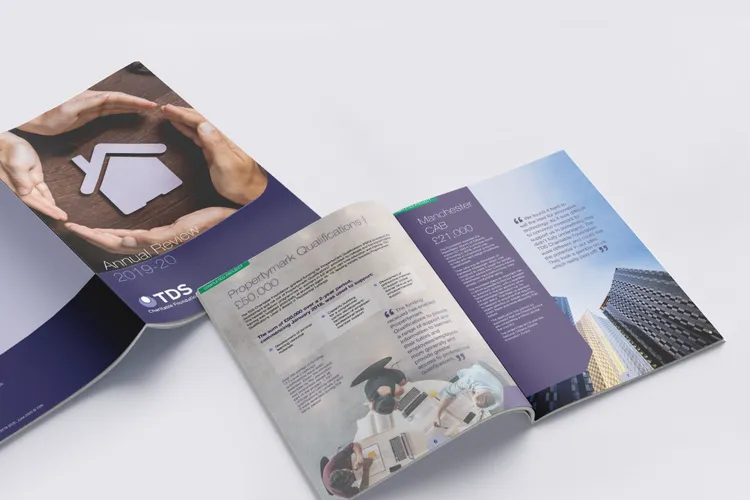 TDS Charitable Foundation has released the 2019-2020 Annual Review. This review looks back on all the success' the Foundation has had over the last 12 months and summarises the key information you need to know, all in one place.
What is TDS Charitable Foundation and what's the purpose?
Launched in 2014, the mission of the TDS Charitable Foundation is to raise standards within the private rented sector (PRS). This is delivered by providing education and information to tenants, landlords and agents both directly and indirectly through other organisations. The Foundation looks to support projects which focus on promoting knowledge of landlords' obligations and knowledge of tenants' rights and responsibilities. Primarily a grant giving charity; each year the Trustees decide the core themes for funding and welcome bids from organisations and individuals. Since the Foundation's establishment 6 years ago, it has funded 58 projects, investing nearly £800,000.
Inside the review
The Annual Review begins with a warm welcome to our new Trustees; RICS Head of Sustainability, John Karus and leading property expert, Kate Faulkner. Both will be governing the Foundation as it looks to continue the great work that has already been started over the last 6 years.
A major positive over the last year for the Foundation was the completion of the Propertymark qualifications project which was previously awarded funding in 2018. This supported 16-19 year olds primarily, regardless of whether they are in full or part time education, to help them achieve a Level 2 award in Residential Lettings. Further details of the number of people the qualification has helped can be found within the Annual Review.
Another key talking point of the review is centred around The UK Collaborative Centre for Housing Research (CaCHE). The Foundation's largest funded project to date, it aims to help research housing issues in the UK with a view to informing policy changes to raise standards. The project is jointly funded with the SafeDeposits Scotland Charitable Trust.
The Annual Review closes with an overview of the projects that have been funded this year with snapshots of the fantastic work they have been doing. If you think that the TDS Charitable Foundation could help you, please click here: https://tdsfoundation.org.uk/#apply-for-funding
Read the TDS 2019-2020 Charitable Annual Review today.
---
About TDS
Tenancy Deposit Scheme (TDS) is a Government-approved scheme for the protection of tenancy deposits; TDS offers both Insured and Custodial protection and also provides fair adjudication for disputes that arise over the tenancy deposits that we protect.
TDS can only comment on the process for our scheme, other deposit protection schemes may have a different process/require different steps. Content is correct at the time of writing.
These views are those of the author alone and do not necessarily reflect the view of TDS, its officers and employees.
---