#AskTDS: "What do I do if my deposit isn't protected?"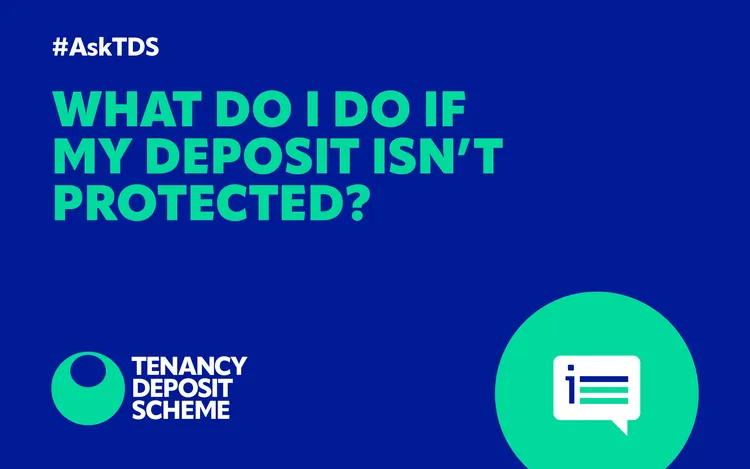 In this week's AskTDS, we answer a common question from tenants, "what do I do if my deposit isn't protected?"
Since April 2007, it has been a legal requirement for landlords to protect deposits for assured shorthold tenancies in a government-approved deposit scheme.
What is an Assured Shorthold Tenancy?
An Assured Shorthold Tenancy (AST) is the most common type of tenancy if you rent from a private landlord or letting agent.
You usually have an AST if:
your original tenancy started on or after 28 February 1997
you don't share any accommodation with your landlord and they live elsewhere
You won't have an AST if your rent is:
more than £100,000 a year
less than £1,000 a year in London or £250 a year outside London
Your deposit does not need to be protected if it is not for an AST.
Your landlord or agent must put your tenancy deposit in a Government approved deposit protection scheme if you have an assured shorthold tenancy.
When your landlord or agent protects your deposit, they should issue you with deposit protection documentation called prescribed information. If you have not received this, or are unsure if your deposit has been protected, you can check on our help centre to see if it has been protected with TDS. We run two schemes so please check both:
If you do not have access to your Deposit Reference, please use the form to search for your deposit by entering information about your tenancy. You will need a postcode, surname, tenancy start date and deposit amount to search.
There are 3 schemes which protect tenancy deposits. If your deposit is not protected by TDS, please use the link below to visit the Shelter website and search the other schemes.
What to do if your deposit is not protected
If you suspect your deposit has not been protected you, should follow these steps:
Contact the deposit protection schemes and enquire if your deposit is registered with them.
If your deposit has not been protected, you can contact your landlord and ask them to do so immediately.
You can contact your local county court and start proceedings against your landlord.
If it is found that your landlord has not protected your deposit they will be ordered to either repay it to you or to pay it into a custodial scheme within 14 days.
Most landlords and agents are aware of their responsibilities and will have registered your deposit with one of the schemes.
In cases where an agent goes into liquidation, TDS will write to tenants giving them a time-limited opportunity to submit an application. This application will allow the tenant to raise a dispute at the end of the tenancy, whenever that may be, and TDS will honour the protection. These measures are in place to ensure the tenant is not left out of pocket through no fault of their own.
What to do if your deposit was not protected at the start of the tenancy
The landlord (or agent on their behalf) should protect your deposit and provide you with prescribed information within 30 days of receiving the deposit. If you haven't received notification as to your deposit protection, you may want to check this with your landlord or agent.
If you think your deposit has not been protected, you should contact each of the three government-approved providers to ensure this is the case.
If none of the schemes have any record of your deposit you can seek advice from Shelter, your local Citizens Advice Bureau (CAB) or reach out to your local county court to ask them for assistance. The deposit protection schemes will only check against the details you provide, so you should ensure that you provide the correct start date, address and landlord name.
While we recommend opening communications with your landlord before going to court, you may initiate court proceedings against your landlord. The courts will consider your evidence and if they agree your deposit has not been protected, they will then ask your landlord to:
Return the deposit to you, or
Pay the deposit into a custodial scheme within 14 days.
The court may order the landlord to pay you between one and three times the original deposit amount.
What should you do if your deposit has been protected and then unprotected
The deposit should remain protected for the duration of the tenancy, although there may be cases where your landlord or agent decides to change which scheme the deposit is protected with, in which case you should receive updated deposit protection documentation.
There are various circumstances in which you should receive updated deposit protection documentation, such as (but not limited to):
If there is a change in landlord
If there is a change in tenant
If there is a change in tenancy address
If there is a change in scheme
If your deposit is unprotected, this usually means that a landlord has notified the Tenancy Deposit Scheme that your tenancy has ended, or that your deposit has been protected with another scheme (usually due to a change in managing agent, or after the sale of a property to a landlord who uses a different scheme).
If this is not the case, you should reach out to the scheme that your deposit was last protected with. In the Insured scheme, even though the deposit protection has been marked as ended, the Tenancy Deposit Scheme will continue to offer protection for three months, to ensure that you have access to our dispute resolution service if you do not agree with the landlord retaining your deposit.
For more tenant advice, please view our tenant FAQ page.
---
About TDS
The Tenancy Deposit Scheme is part of The Dispute Service (TDS), the largest tenancy deposit protection (by value) and resolution service provider in the UK making life easier for tens of thousands of agents, landlords, developers, and millions of tenants and homebuyers.
Our award-winning customer service is highly rated on both Trustpilot and Google, and we're backed by the NRLA, Propertymark and RICS.
We provide quick and hassle-free online deposit protection, free guides and information in our online help centre, free dispute resolution and free mid-tenancy mediation for tenants and landlords.
Our free tenant lifecycle app, tlyfe, makes renting smarter. Manage your TDS deposit, get pre-qualified, build your credit ratings, and more.