#AskTDS: "My tenant used the pine tree in the back garden as a Christmas tree, can I deduct for this?"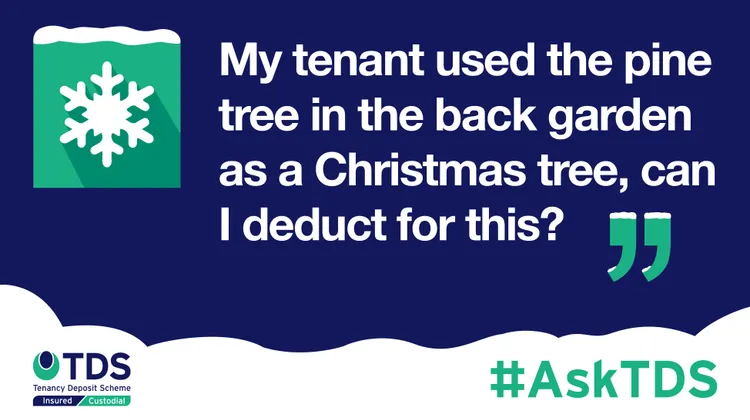 In this week's #AskTDS, we answer a landlord's question: "My tenant used the pine tree in the back garden as a Christmas tree, can I deduct for this?"
Another tree conundrum for the seasonal period. The adorning of our homes with lights and decorations to celebrate at this time of year is very common. Often, we expect to see a pine tree used in our living rooms to cover in glitter and baubles, but what is your recourse if your tenants take one from your rented property instead of buying it elsewhere?
For the full details, you need to refer to the clauses in your tenancy agreement; it's as much about what the tenant cannot do as what they can do. If the tenancy agreement asks the tenants to maintain the garden, you will want that clause to confirm exactly what is expected. If the tenancy agreement states that the tenant can remove trees or branches, this may lead to confusion. Indeed, the real question is, have you suffered a loss? If the one tree, however large or small, was there and noted at the beginning of the tenancy and it's now missing, there is an identified loss. To make a deduction from the tenancy deposit to cover this loss, there needs to be a reference to what the deposit has been taken to cover; this may include damage to the garden.
So, what is the value of a pine tree? The calculation may revolve around the damage left, the cost of replacement and re-planting, and what consent was given to the tenants.
The key to protecting yourself is to make sure your tenancy agreement is suitable for the property you're letting and if there is value in the garden, you may want to focus on ensuring all eventualities are covered in case a tree gets chopped, lopped or discarded.
Gardens can be expensive areas to manage, so be precise and specific.
It may be that the trees remain in the garden and are dressed with lights that are removed without damage after the festive party is over. If there is no change in the condition of the tree and the garden, then there is no loss to award for in those circumstances.
For a successful and happy Christmas, make sure your tenants are informed and aware of what they can and what they cannot do, and don't make damages in Christmas past a thing of the future.
About TDS
Tenancy Deposit Scheme (TDS) is a Government-approved scheme for the protection of tenancy deposits; TDS offers both Insured and Custodial protection and also provides fair adjudication for disputes that arise over the tenancy deposits that we protect.
We provide invaluable training in tenancy deposit protection and disputes for agents and landlords through the TDS Academy as well as joining with MOL to provide the Technical Award in Residential Tenancy Deposits.
TDS Insured Scheme: where a TDS member can hold the tenancy deposits as stakeholder during the term of the tenancy.
TDS Custodial Scheme: where TDS hold the deposit for the duration of the tenancy.
TDS Academy: TDS provides property professionals with invaluable training in tenancy deposit protection and tenancy deposit disputes.
TDS Northern Ireland: TDS is Northern Ireland's leading and only not for profit tenancy deposit protection scheme.
TDS can only comment on the process for our scheme, other deposit protection schemes may have a different process/require different steps. Content is correct at the time of writing.
These views are those of the author alone and do not necessarily reflect the view of TDS, its officers and employees.
ARLA|Propertymark: For agents who would like to stay up to date, you can contact Propertymark | ARLA at: join@propertymark.com. By being a member of Propertymark | ARLA you will be eligible for TDS Insured best headline rates.
RLA: If you are a landlord and would like to keep up to date with any changes that may affect you or your responsibilities, you can contact the RLA at: info@rla.org.uk and quote reference: dg715 to receive 25% off your first year's membership.