The Dispute Service (TDS) Releases its Annual Review showing growth across all schemes for 2021/22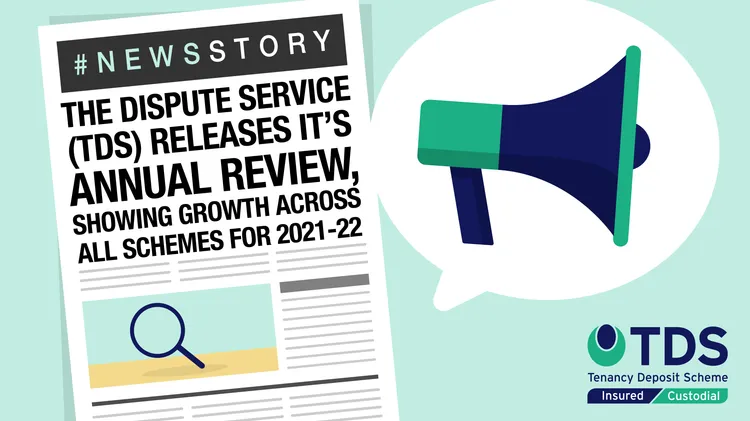 The Dispute Service (TDS) has released its Annual Review for 2021/22, which reveals growth in all the tenancy deposit schemes across the UK after Covid-19 lockdowns were lifted.
TDS has continued to grow the number of deposits protected across the UK (7.09% in the year) with its Custodial offering growing by 41.24%.
TDS remain the UK's largest tenancy deposit scheme provider by value, protecting c1.8m deposits with a value of over £2bn.
What's next for TDS?
"The last year has seen TDS bouncing back from Covid and thinking about what more we can do in the private rented sector" comments CEO, Steve Harriott.
"We have ambitions to grow further over the next year both organically and by encouraging agents and landlords to switch deposit schemes to benefit from our market leading technology solutions backed by great customer service."
Tech investments improving the PRS
TDS's investment in technology improvements has continued with our new disputes handling platform for Zero Deposit in November 2021, and our new Salesforce based SafeDeposits platform in July 2022.
Over the next 12 months we will see further Salesforce launches as we modernise our complete technology stack.
During the year, we decided to increase our engagement with tenants, and we are preparing to launch a new Renters App with Openbrix for our tenant customers by the end of 2022.
Partnerships at the heart of TDS' Growth
TDS continues to work closely with our partners [Propertymark, RICS and NRLA] all of which are represented on the TDS Board.
We are also deepening our partnerships with The Depositary, Inventory Hive and Complylex; and we are about to start a major promotion of Money Shield; a Client Money Protection service which we operate with Propertymark.
Martin Partington, Chair of TDS comments:
"The success of TDS is down to the quality of the colleagues we employ and the Board. During the year we were sad to see Mark Hayward retire from the TDS Board and delighted to see him replaced by Nathan Emerson, CEO at Propertymark. The Executive team, ably led by Steve Harriott as Group CEO, was further strengthened through the appointment of Neil Peers as Chief Operating Officer and the whole staff team were delighted in 2021 to have secured the #3 position in the Best Not for Profit Bodies category."
The TDS Annual Review is now available for free download at: TDS Annual Review 2021-2022
Not with TDS?
TDS is dedicated to supporting the PRS with tech innovations, strategic partnerships and guidance for landlords, letting agents, and tenants.
If you have not yet joined the free TDS Custodial deposit protection scheme or the Insured protection scheme, it's simple to switch!