TDS Academy announces new course dates for first quarter of 2022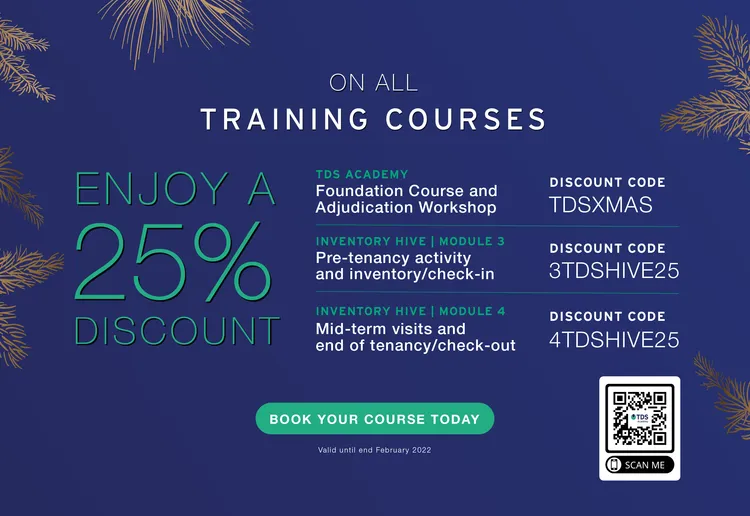 TDS Academy, the learning and development division of Tenancy Deposit Scheme (TDS) have released new dates for the first quarter of 2022's online academy courses. TDS in-house adjudication experts have been running courses for 15 years, providing thousands of attendees with specialist insights, pro tips, insider knowledge and invaluable advice. The TDS Academy moved online during lockdown 2020 which was met with great reception, and we continue to run the courses virtually. You're able to access the courses via laptop, tablet and smartphone.
Industry-leading training courses by TDS Academy
TDS Academy courses are live online 90-minute sessions spread over 2 days to ensure your busy schedules are accommodated, and provides property professionals with up to date, invaluable education in tenancy deposit protection and tenancy deposit disputes. Our courses include:
TDS Foundation Course: Guides you through the lifecycle of a deposit, from registration, repayment, through to the alternative dispute registration process. This will include what kind of evidence you can prepare to be more efficient and how to confidently understand which deposit issues may be resolved should there be a dispute at the end of tenancy. This course is for agents, property managers, inventory suppliers and landlords.
The Adjudicator Workshop: Learn how to 'think like an adjudicator'. The course focuses on the TDS Alternative Dispute Resolution service (ADR), to show the kind of evidence an adjudicator looks for in a tenancy deposit dispute and why. There will still be the opportunity to ask questions and share your own experiences whilst learning in an online environment with experienced trainers within the TDS Academy. This course is for property managers, administrators, inventory suppliers and landlords.
In addition, we offer two on-demand courses in partnership with Inventory Hive
Pre-tenancy activity and check-in course: The on-demand course includes an introduction to inventory check-ins and practical tips for compiling reports. The session focuses on key vocabulary/terminology and what to include in an inventory report.
Mid-Tenancy and check-out course: The second on-demand course focuses on mid-term visits and end of tenancy check-out reports. The session includes practical guidance on undertaking reports, alongside how reports are approached by an adjudicator when considering deposit deductions.
TDS accreditation logo upon completion of all 4 courses
Once you have completed all four courses, you'll receive a specialist TDS accreditation logo for use on your check-in and check-out reports for the next 18 months, helping to build your brands trust.
Why attend?
Here's what one of the very first attendees recently said about the workshops:
"Our staff went through deposit dispute scenarios and how those disputes could be avoided and resolved with the right processes and evidence in place. Since then, we've only ever had two disputes raised in 14 years – and one was resolved before going any further!"
Read more about their experience: How the TDS Academy helped our agency
Gain expert knowledge and earn CPD points
TDS training qualifies you for continuous professional development (CPD) points which can help towards professional accreditation. All attendees receive a certificate which you can use for CPD points.
To take advantage of the February 2022 discount please scroll through our academy calendar and reserve your seat.