#Press Release: The National Landlord Investment Online Super Shows are off to a flying start!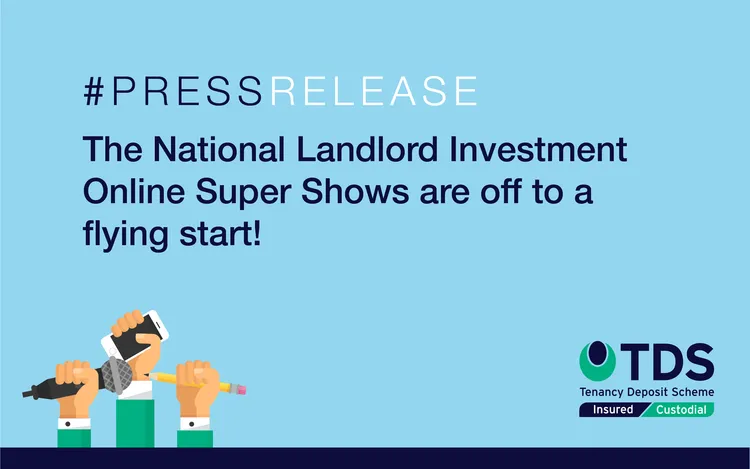 The National Landlord Investment Show have released an exciting new press release, take a read of it below.
Join the team and a host of expert speakers and exhibitors next Thursday 8th October online!
As a host of live events, 2020 has presented us with exceptional challenges. Our response is to lead the market by delivering the first ever online show dedicated solely to the UK buy-to-let market.
The LIS team have been flat out working to provide thousands of Landlords, Investors and those entering the private rented sector a full days programme online.
The first super show which is the Midlands, Manchester and North show will start at 9am on Thursday 8th October.
There will be a great selection of exhibitors and speakers covering every aspect of buy-to-let including Tax, Finance, Investment, HMO, Education, Legal, Insurance, + much more
Partnering with an established digital events platform, the National Landlord Investment Show will be delivering 3 online events throughout October and November.
Visitors will still be able to connect with their favourite brands and discuss their needs in person, easily browse the superb products and services on offer, watch seminars by leading industry experts, network and benefit from the depth of knowledge and experience the National Landlord Investment Show has to offer, but from the safety of their home or office.
We have Thousands of landlords, investors and property professionals hungry to hear about services and products and listen to seminars. We've already seen 100's of landlords register for our live events and have no doubt they will be equally eager to engage online.
Show Founder Tracey Hanbury shared her view: 'It's been a challenging year for the events industry, but this a hugely exciting opportunity for us at the Landlord Investment Show. We have exhibitors galore with superb products and services, and an audience hungry to engage post the Covid-19 vacuum. With the property market remaining buoyant, and government incentives to buy, there's no time like now to get involved'.
We are also delighted to announce that Nova Financial Group, LOFT and MFS are our main sponsors for the online shows.
Paul Mahoney Managing Director & Founder of Nova Financial Group quotes
"We've worked with the National Landlord Investment Show for over five years and all of their events have resulted in business for us. We have scaled up on our involvement over the years due to the success they have delivered for us. We are looking forward to a slightly different approach this year in light of COVID – 19 and are proud to announce that we are main sponsors of the 3 online super shows"
Ben Hall CEO of LOFT adds
"LOFT are excited to be partnering with the National Landlord Investment Show for the seventh consecutive year, being part of over 75 shows & events. This year we are main sponsors for the first ever online `super-shows` allowing us to continue to support property professionals across the UK during this challenging year, helping to bring everyone together in the buy-to-let market".
Leah Brunskill – Marketing Manager of MFS quotes
"We usually attend the NLIS in person, but are really excited to be taking part in the online shows this time, which will reach an even wider audience, its's clear from demand and the latest stats that just because we are still in a version of lockdown, it does not mean that waves are not being made across the buy-to-let market.
Between stamp duty, interest rate cut, and mortgages becoming significantly delayed, property investors need clarity more than ever. The National Landlord Investment shows have always delivered that, it's just being done from home or the office now".
David Smith – Economics Editor of The Sunday Times –
"We are all having to adapt to difficult circumstances and these online shows are a great way of doing so. I am sure that they will be excellent and I am very happy to be taking part in them". I am looking forward to delivering my live seminars on "The outlook for the economy and the housing market at all 3 super shows".
 Meet an array of exhibitors and view up to 20 seminars by leading Industry Experts covering all aspects of buy-to-let including:
As always, entry is free, all you have to do is register. Learn more about the Online Landlord Investment Show by visiting our website www.landlordinvestmentshow.co.uk/all-2020-shows
Not a member of TDS yet? It's easy. Register your tenancy deposit today.
---
About TDS
TDS Custodial: where TDS hold the deposit for the duration of the tenancy. Landlords, you can protect your deposits for FREE today.
Tenancy Deposit Scheme (TDS) is a Government-approved scheme for the protection of tenancy deposits; TDS offers both Insured and Custodial protection and provides fair adjudication for disputes that arise over the tenancy deposits that we protect.
TDS can only comment on the process for our scheme, other deposit protection schemes may have a different process/require different steps. Content is correct at the time of writing.
These views are those of the author alone and do not necessarily reflect the view of TDS, its officers and employees.