Press Release: TDS Charitable Foundation Awards £293,000 of Funding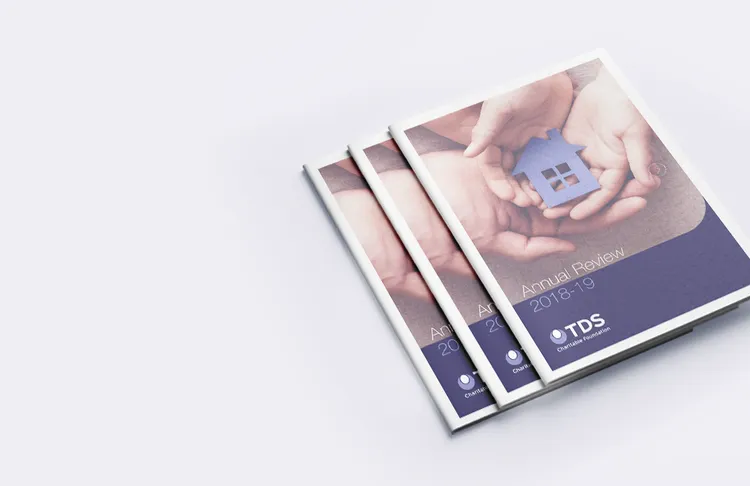 TDS Charitable Foundation publishes 2019 Charitable Annual Review
Foundation has given nearly £300k of grants to UK organisations over the past year
The TDS Charitable Foundation has published its 2018/2019 Annual Review, which revealed how the charity has distributed over £293,000 of grants to nine different organisations across England and Wales in the last financial year.
The Foundation, which is funded by donations from The Dispute Service (TDS) and operates in England and Wales, awards grants to encourage best practice in the management of private rented housing and education of landlords on their obligations. It also seeks to promote the rights and responsibilities of tenants.
To date, the Foundation has awarded £753,375 of funds to a range of different ventures.
Professor Martin Partington CBE QC, Chair of the TDS Charitable Foundation, said: "By contributing to the work being carried out by so many worthwhile organisations, we hope these projects will have a real impact and help more people understand not only how the PRS works but what their roles and responsibilities are."
The charity opens up bidding rounds three times a year and welcomes applications that aim to advance education in housing rights and promote knowledge in conflict resolution and legal requirements of landlords and tenants.
In Scotland, The Dispute Service is a partner in the SafeDeposits Scotland Charitable Trust, which works towards similar goals in the Scottish private rented sector and is funded by donations from SafeDeposits Scotland, the country's largest tenancy deposit scheme.
Full details on the grants awarded in the 2018/2019 period are provided in the Charitable Foundation's Annual Review, which can be read and downloaded for free: TDS Charitable Foundation Review
For those who wish to apply for a grant in the next round, the deadline for the submission of applications is 5pm on Monday 20th January 2020. Funding will be capped at a maximum of £10,000 for each successful project, enabling the charity to maximise its support to deserving organisations around England, Wales and Northern Ireland.
Further details can be found on the TDS Foundation website.
The Review is now available to read here: https://tdsfoundation.org.uk/wp-content/uploads/2019/09/TDS-Charitable-Foundation-Annual-Review-2019_Final_Interactive.pdf
About TDS
Tenancy Deposit Scheme (TDS) is a Government-approved scheme for the protection of tenancy deposits; TDS offers both Insured and Custodial protection and provides fair adjudication for disputes that arise over the tenancy deposits that we protect.
TDS can only comment on the process for our scheme, other deposit protection schemes may have a different process/require different steps. Content is correct at the time of writing.
These views are those of the author alone and do not necessarily reflect the view of TDS, its officers and employees.