#NewsStory: Yorlet Integrates with TDS API to Streamline Tenancy Deposits for Agents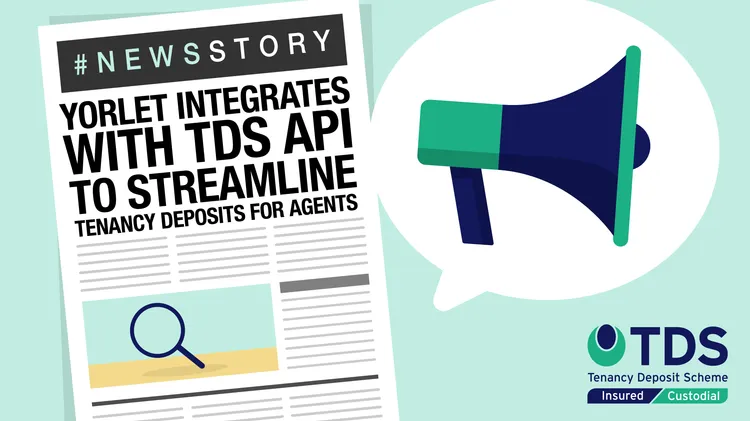 Tenancy Deposit Scheme (TDS) is excited to reveal that award-winning lettings provider Yorlet has integrated technology with the new API solution created by TDS, providing a faster and more secure method of transferring tenancy deposits.
API tech simplifies the deposit process for Yorlet and TDS customers
The TDS API is designed to make life easier for agents when they register deposits. The time-consuming task of duplicating deposit registration data from CRM platforms onto a deposit scheme platform has always been an admin-heavy task. However, with TDS integration, letting agents no longer need to spend their time inputting this data manually.
"We hand-selected TDS because they offer a true technology-first approach to deposit registration. Their clear documentation, alongside a robust testing environment, has enabled our talented engineering team to integrate the service within 4-weeks" commented Max Cartwright, Co-founder of Yorlet.
Yorlet: software exclusively built for property managers
Yorlet provides a fully integrated lettings, finance and payments suite, bringing together everything that's required to successfully grow your agency online, offering professional unlimited support along the way.
Yorlet consolidates the typical 5+ fragmented systems that agencies operate on; pre-tenancy, referencing, payments, CRM and accounting. Simplifying lettings, reducing cost and providing a consistent experience to tenants and landlords. The solution can:
Create tenancies in under 10-minutes
Reduce arrears by 82%
Increase instructions by 25% YoY
Yorlet have successfully transitioned over £3.6b worth of residential properties onto their platform, and this integration with TDS comes alongside a large Q1 update to the pre-tenancy solution, which also includes: Yorlet referencing, launching with Canopy, and Alan Boswell Rent Guarantee Insurance.
Innovative Proptech Solution for Agents
Steve Harriott, CEO of TDS comments, "We are delighted to have Yorlet onboard with the TDS API integration.  We are committed to making life easier for everyone in the lettings process, and our integration with Yorlet will enable us to deliver our service more effectively and benefit all stakeholders".
Cartwright concludes, "We cannot wait to bring this update to our customers alongside our fully automated deposit registration/release workflows. Saving our agents precious time and money."
Streamline Your Property Management
If you would like to find out how the Yorlet platform can save you time and money, visit their website for more information.
TDS customers can also take advantage of the new CRM feature from TDS API when they sign-up to Yorlet.
Not a TDS customer yet? Don't worry. Joining TDS is easy. It only takes a few minutes to join today, or book a demo to find out how simple it is to switch.
Is your CRM software integrated with TDS API?
The TDS API is available in our free Custodial Scheme and Insured scheme, which offers the best rates on the market, and is simple to integrate; our tech team has created the API to embed in just a few steps.
Begin your integration journey today!