#NewsStory: Tenancy Deposit Scheme (TDS) Publish Special Edition Lockdown Letterbox Magazine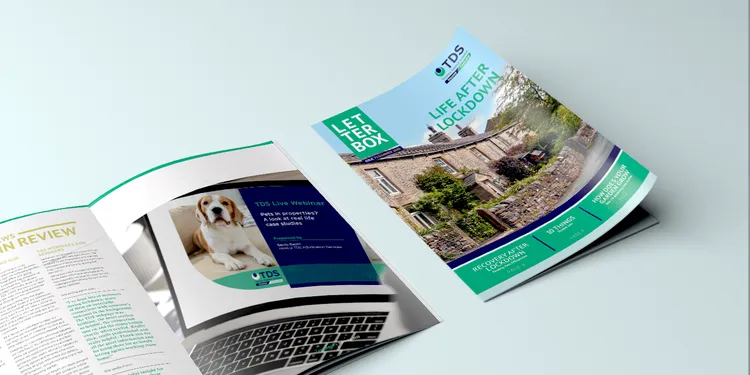 Tenancy Deposit Scheme (TDS) has published the latest edition of its popular member magazine, Letterbox, with a special focus on lessons from lockdown.
Following a challenging few months in the sector, with uncertainty still very much in the air, the magazine features useful insights from the pandemic with a view to taking those lessons forward to aid a speedier recovery.
As the only not-for-profit government-backed tenancy deposit scheme, TDS has long been seen as a centre for independent advice on deposit protection in the private rented sector. This seasonal magazine, along with the organisation's recent series of webinars and seminars, provides much needed guidance to an industry that has required help navigating the unknown.
"Just like our partners in the industry, we've had to adapt quickly to the pandemic and, as a result, we've learned just how important communication is within our industry – and how digital technology has helped to facilitate that. It's forced new efficiencies and accelerated plans, which we talk about in the magazine. It's all about helping landlords, letting agents and tenants find new, better ways of working in the future as we all recover," explained Steve Harriott, CEO at Tenancy Deposit Scheme.
As normal business begins to resume, this edition of Letterbox magazine still features its regular favourites including Ask an Adjudicator, Trends and the reader competition, which this month focuses on pets in properties – a consistently divisive topic amongst tenants and landlords.
TDS recently ran a poll, which surveyed 1,500 landlord customers on their attitudes and experiences with pets in tenancies, and the results are interesting – especially at a time where the country has seen a spike in pet ownership as a result of the lockdown. The full survey results are revealed in the magazine.
As the industry waits to see what happens with universities and student accommodation in the coming weeks, the magazine also offers advice on how to get a student tenancy right when the market moves again. TDS have created a useful 10-point checklist that will help landlords, agents and tenants to avoid common and costly deposit disputes in student lets.
The magazine is free to customers of TDS as one of the benefits of membership. For landlords and letting agents interested in becoming a customer, it's quick and easy to switch to or join the free Custodial deposit protection scheme. Join here.
Letterbox can be downloaded from the Information Lounge on the TDS website at: Tenancy Deposit Scheme.
Read the latest version of Letterbox magazine here
---
About TDS
Tenancy Deposit Scheme (TDS) is a Government-approved scheme for the protection of tenancy deposits; TDS offers both Insured and Custodial protection and provides fair adjudication for disputes that arise over the tenancy deposits that we protect.
TDS can only comment on the process for our scheme, other deposit protection schemes may have a different process/require different steps. Content is correct at the time of writing.
These views are those of the author alone and do not necessarily reflect the view of TDS, its officers and employees.
---