#NewsStory: TDS publishes September Adjudication Digest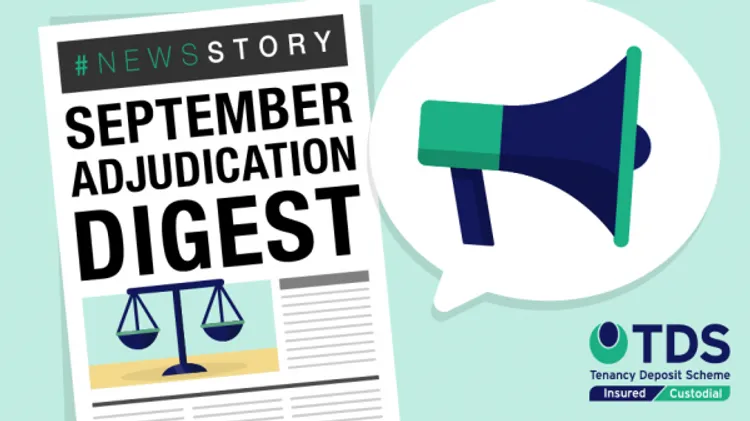 Tenancy Deposit Scheme (TDS) publishes the latest monthly Adjudication Digest report.
Every month, TDS publishes a real life example of a case faced by the adjudication team. The most recent Adjudication Digest, "Testing, testing!", from Sandy Bastin, TDS' Assistant Director of Dispute Resolution, is available to download now.
In the latest report, a TDS adjudicator details the arguments put forward by both the landlord and the tenant over £400 for a broken integrated music system. It sets out what evidence was presented and how the adjudicator reached their decision on where to award the disputed amount.
Michael Morgan, Director of Dispute Resolution at TDS, said: "Our monthly Adjudication Digest reports are a valuable tool for landlords, letting agents and tenants to understand how our alternative dispute resolution system works in practice.
"We publish them to educate our members on how to present evidence and alerting them to potential pitfalls that can impact the success of legitimate claims on the tenancy deposit."
As well as publishing blogs on its adjudication and alternative dispute resolution (ADR) operations, TDS also publishes guides and hosts Adjudication Workshops through its Academy programme across the country.
About TDS
Tenancy Deposit Scheme (TDS) is a government-approved scheme for the protection of tenancy deposits; TDS offers both Insured and Custodial protection and also provides fair adjudication for disputes that arise over the tenancy deposits that we protect.
We provide invaluable training in tenancy deposit protection and disputes for agents and landlords through the TDS Academy as well as joining with MOL to provide the Technical Award in Residential Tenancy Deposits.
TDS Insured Scheme: where a TDS member can hold the tenancy deposits as stakeholder during the term of the tenancy.
TDS Custodial Scheme: where TDS hold the deposit for the duration of the tenancy.
TDS Academy: TDS provides property professionals with invaluable training in tenancy deposit protection and tenancy deposit disputes.
TDS can only comment on the process for our scheme, other deposit protection schemes may have a different process/require different steps. Content is correct at the time of writing.
These views are those of the author alone and do not necessarily reflect the view of TDS, its officers and employees.