#NewsStory: Gain expert knowledge and earn CPD points with TDS Academy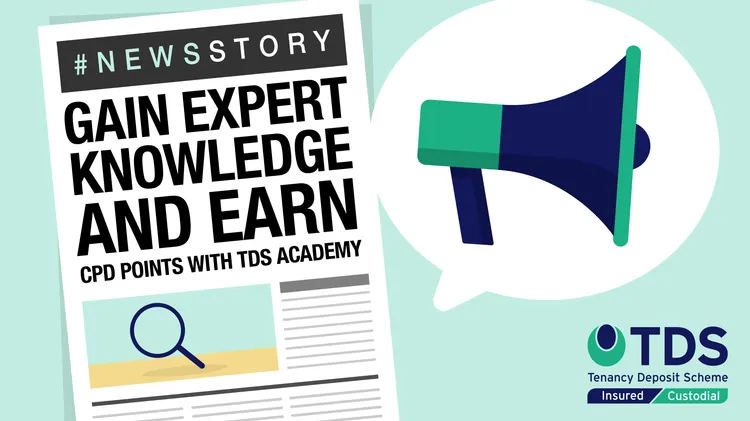 Did you know that TDS Academy training qualifies you for continuous professional development (CPD) accreditation? Our course attendees receive a certificate upon completion, which you can use for CPD points.
'A very well-presented workshop. Easy to understand and full of useful tips'.
Very clear, concise and well presented. Very informative and an excellent amount of time for the Q&A at the end. Thank you. Enjoyed a lot!
– Recent TDS Academy attendee
Virtual classes continue
TDS Academy moved online during lockdown which was met with a great response, so the courses continue to run virtually. You're able to access the courses via laptop, tablet and smartphone.
TDS Academy courses are live online 90-minute sessions spread over 2 days to ensure your busy schedules are catered for, and provide property professionals with up-to-date, invaluable education in tenancy deposit protection and tenancy deposit disputes.
TDS accreditation logo upon completion of all 4 courses
Once you have completed all four courses, you'll receive a specialist TDS accreditation logo for use on your check-in and check-out reports for the next 18 months, helping to build your brands trust.
A breakdown of our CPD certified courses
TDS Foundation Course
This course teaches you the entire deposit lifecycle from registration to dispute resolution. You'll learn how to properly assess which deposit issues may be resolved, and what type of evidence you should prepare in case of a dispute at the end of the tenancy.
The Adjudicator Workshop
An adjudication instructor can teach you how to think like one. You'll learn about the TDS Alternative Dispute Resolution service (ADR), which will reveal how an adjudicator evaluates a tenancy deposit dispute. You'll still be able to ask questions and share your own experiences while learning online with expert instructors.
Plus two on-demand courses in partnership with Inventory Hive
Pre-tenancy activity and check-in course: The on-demand course includes an introduction to inventory check-ins and practical tips for compiling reports. The session focuses on key vocabulary/terminology and what to include in an inventory report.
Mid-Tenancy and check-out course: The second on-demand course focuses on mid-term visits and end of tenancy check-out reports. The session includes practical guidance on undertaking reports, alongside how reports are approached by an adjudicator when considering deposit deductions.
Propertymark Level 3 in Residential Tenancy Deposit Protection and Management
TDS, in partnership with the awarding body Propertymark Qualifications offer the Level 3 Award in Residential Tenancy Deposit Protection and Management.
This qualification examines topics in law and legislation for both letting agents and landlords.
In addition to the legal aspects of letting residential property, you'll also learn about handling, protecting and processing residential tenancy deposits and dispute resolution procedures.
This qualification can be studied in your own time, for up to three years. And, for those of you who hold the Propertymark Qualifications Level 3 Award in Residential Letting and Property Management you already have the benefit of only needing to complete two additional units, rather than the usual four.