How pre-move inspections can reduce void periods in rentals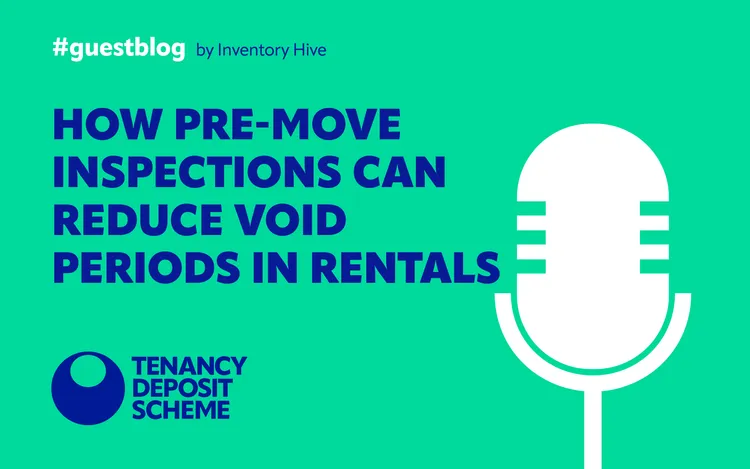 Ah, the dreaded void period in private rentals. These 'no rent' periods can be detrimental to landlords and letting agents if they last too long. Whilst they can't be completely eradicated, there are ways to reduce their duration to prevent the financial hit that comes from empty rental properties. We look at how pre-move inspections can reduce void periods, and consequently boost income, for buy-to-let property owners.
What is a void period in rental properties?
A void is a period between a tenant leaving and the next tenant moving in. During that period, the landlord receives no income from rent and incurs extra costs that impact profit.
How long does a void period last?
According to research from Statista, the average void period for landlords in the private sector was three weeks between 2013 and 2019.
How much does a void period cost?
It's important to budget for void periods when forecasting annual rental income, but this must include the hidden costs of an empty property – not just the rent. Council tax, utility bills, maintenance, decoration and marketing costs for attracting new tenants will mount up the longer a property is vacant.
The greatest cost is time, of course. Time spent in organising cleaning, getting quotes for remedial works, property updates and repairs, organising visits and viewings, and promoting the property through all of marketing channels uses up hours of letting agent time – time that could be spent elsewhere.
This is why it's so important to keep void periods to a minimum.
How do pre-inspection checks reduce void periods?
Without pre-inspection checks, the letting agent or landlord has no way of predicting how much work is required in a property at the end of an existing tenancy.
They can't accurately budget or book contractors to repair and redecorate the property, which can result in longer voids if services aren't available quickly.
Preparation is key to keeping void periods low and costs even lower.
The more knowledge you have about the condition of a property prior to check-out, the quicker you can act. Ideally, you should have work planned and booked as soon as the existing tenant leaves.
This will take some smart scheduling and organisation, but this can happen while the current tenant is in situ – and while the revenue is still coming in.
Take advantage of property platforms
Yes, planning inspection visits does come with their own admin drain – but there are ways to cut down time there too.
Award-winning property inspection developers, Inventory Hive, carried out research amongst property managers and subsequently created a digital diary mapping feature that saves 20 minutes in office admin time for every single interim property visit scheduled.
It works by integrating diaries, schedules and Google Maps to plan the best route for inspections (that includes travel time and mileage monitoring to help you track your carbon footprint.).
They found that digital software can make a big difference to the bottom line.
'We used to have a 5-day guaranteed void period at check-out as we didn't know the condition of the unit. With Inventory Hive's pre-move-out inspections, we can now do a two-day turnaround. We have saved about 700 days of additional revenue across our portfolio thanks to that,' Rob Birch, Head of Operations at Gravity Co-Living.?
Plan ahead to save time and money
It comes down to planning ahead, which you can only really do confidently after a property visit.
This will allow you to be ready to jump into action when a tenant moves out of your property.
Here are five ways to plan ahead and save time:
Pre-check out visits will allow you to plan in renovations and repairs.
Draw up your property adverts and descriptions in advance, and plan the channels for promotion before the tenancy ends.
Schedule in safety checks and up-to-date certificates as soon as possible.
Plan in professional cleaning and take up-to-date photographs straight after (these can be used for inventories and marketing the property).
Carry out a full inventory ready for the new tenant.
Don't get caught out with void periods. Learn more at Inventory Hive.
Inventory Hive and TDS working closely together
"The Course was great! Very informative and I recommend all inventory clerks attend this training" TDS Academy Attendee
The Tenancy Deposit Scheme and Inventory Hive run two expert led, CPD accredited courses.
Led by Michael Hill of TDS and Richard Abbots of Inventory Hive, the courses guide property professionals through reporting at each stage of a tenancy, making the process as smooth as possible.
Course 1 'Pre-tenancy activity and inventory check-in' – The first course includes an introduction to inventory check-ins and practical tips for compiling reports. The session focuses on key vocabulary/terminology and what to include in an inventory report.
Course 2 'Mid-term visits and end of tenancy check-out' – The second course focuses on mid-term visits and end of tenancy check-out reports. The session includes practical guidance on undertaking reports, alongside how reports are approached by an adjudicator when considering deposit deductions.
To register for the on-demand training, visit TDS Academy.
---
About the author
Richard Abbots is founder and CEO at Inventory Hive, which is a simple cloud-based property reporting and 360° virtual tour software – allowing for market-leading paperless management of inventories, check-ins, interim visits, comparative check-outs, customisable reports, and easy-to-use 360° virtual tour.
Sign up for your free 30 day trial (no card details required) here.
---