#ExpertView: Why TDS was our obvious choice as our Launch Partner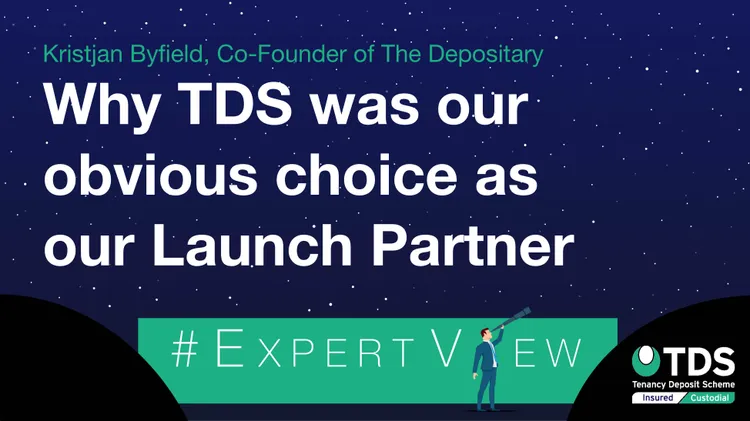 In this week's ExpertView, we hear from The Depositary on why they chose TDS as their partner when developing a new technological platform for improving end of tenancy.
When we decided to pursue our ambition of transforming the 'end of tenancy' process for agents, tenants and landlords, we knew that the only viable way to do this was in collaboration with regulated tenancy deposit protection providers. We also recognised that trying to deliver a solution that worked for all three government-approved schemes in England & Wales (from point of concept) would have been an impossible mission.
That left us with a dilemma: which scheme should we opt for and who will be the best launch partner?
As you now know, we chose TDS to become partner to The Depositary. Here's how we came to our decision:
Instant Buy-In
From the moment we reached out to TDS about our idea and ambitions we received a huge amount of energy, enthusiasm and support from the entire executive board and beyond. They identified with the issues we were trying to solve and have been huge advocates of what we are trying to achieve from day one.
Not For Profit
TDS are the only 'not-for-profit' (NFP) deposit solution in the marketplace- including all government licensed schemes and more recent entrants in to the 'deposit alternative' space. This resonated instantly with the fact we were trying to create a product that not only benefits agents but, importantly, one that brings much needed transparency to tenants going through the end-of-tenancy process.
Affiliate Stakeholders
The fact that TDS are already backed by ARLA, RICS & RLA informed us of buy-in and trust from some of the largest representative groups within the residential sector (further amplified by the recent merger of RLA & NLA) ensuring a good dialogue and a rich knowledge of the PRS from all perspectives.
Customer Service Excellence
The recognition and awards heaped on TDS, across the various schemes it operated, meant that their quality of service and 'customer-centric' approach made them an almost impossible operation to ignore. This was and is closely aligned with our values in delivering a market-leading product and service. TDS has been recognised by the government for Customer Service Excellence every year (and counting) since 2012, and has been recognised by The Sunday Times as one of the UK's Top 100 NFPs (twice), and a Best Companies 'One To Watch' in 2017. They've also received consecutive ESTAS Awards in the Deposit Protection category from 2016 onwards. This long list of accolades left us with just one question: How can we justify NOT partnering with TDS?
Rapid Response
The statistics highlighted in the Annual Reports shows that TDS answer calls and emails faster than any other government licensed scheme and also consistently delivers the fastest (average) dispute adjudication time. The latest report shows this continues to this day. They average an adjudication result in under 12 days, which is leaps and bounds ahead of its competitors. These metrics underpin their award recognition and present an exciting challenge for us – can we help them do even better, faster?
Best Practice
The array of educational content, case studies, seminars/events and video content the TDS produce to educate all relevant parties on both government legislative framework and tenancy deposit best practice very much align with our ambitions to keep best practice at the forefront of every party's mind. Ensuring all stakeholders understand both the rights & responsibilities is a tricky balancing act but a vital one in this space.
Innovative Track Record
TDS have a track record of innovation- integrating their deposit registration process into many CRM systems, investing in and adjudicating for Zero Deposit Solutions, as well as funding learning and innovation through the TDS Charitable Foundation. This is essential for a company like us looking to innovate and evolve an established process within agency operations.
No Brainer
Considering all of these points, choosing TDS to be our exclusive development and launch partner was an easy decision to make in the end and is one we have been delighted with ever since. We are now really excited, after 3 years of hard work between us, to start delivering the results and ambitions we set out to achieve from the start.
To learn more about The Depositary, visit their website at: www.thedepositary.com. Alternatively, book a demo with TDS and The Depositary where you can find out more about the core functionality of the end-to-end platform.
Interested in switching tenancy deposit schemes? Discover why landlords and agents are also choosing TDS: https://www.tenancydepositscheme.com/join/switch/
---
About TDS
Tenancy Deposit Scheme (TDS) is a Government-approved scheme for the protection of tenancy deposits; TDS offers both Insured and Custodial protection and also provides fair adjudication for disputes that arise over the tenancy deposits that we protect.
We provide invaluable training in tenancy deposit protection and disputes for agents and landlords through the TDS Academy as well as joining with MOL to provide the Technical Award in Residential Tenancy Deposits.
TDS Insured Scheme: where a TDS member can hold the tenancy deposits as stakeholder during the term of the tenancy.
TDS Custodial Scheme: where TDS hold the deposit for the duration of the tenancy.
TDS Academy: TDS provides property professionals with invaluable training in tenancy deposit protection and tenancy deposit disputes.
TDS Northern Ireland: TDS is Northern Ireland's leading and only not for profit tenancy deposit protection scheme.
TDS can only comment on the process for our scheme, other deposit protection schemes may have a different process/require different steps. Content is correct at the time of writing.
These views are those of the author alone and do not necessarily reflect the view of TDS, its officers and employees.