#ExpertView: Why customer service is so important to TDS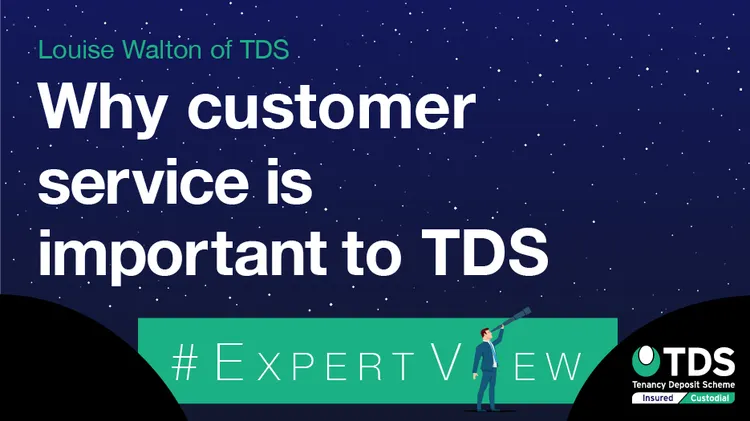 What do we do?
TDS are proud of our record in delivering the best service to all our members and customers regardless of which TDS scheme they chose to use (TDS offers both Insured and Custodial deposit protection schemes) aand how they choose to contact us.
Our services for Tenancy deposit protection are always improving with more of a focus with online access and digital marketing and support. Its key for the TDS team to ensure that our deposit protection services are as user friendly, easy to understand with easy ways to get all the information and guidance our customers need 'hassle free'.
Many of our TDS colleagues have worked in the private rental sector and so are able to understand the pressures and frustrations that our customers experience.
Our easy to navigate online services allow agents, landlords to manage their deposit protection registrations online and for tenants to access services to ensure they can identify if a tenancy deposit is registered with TDS. When customers have a need to contact us we make this a simple process, we have dedicated, in-house operations teams providing help and guidance and deliver this to maintain a personal approach to the services we provide.
How are we performing now?
We work to provide advice and support to members on a range of topics initial registration to tenant change-overs, deductions and, where needed tenancy deposit disputes. We recently retained our Customer Service Excellence Award from the UK Cabinet Office for services that are 'efficient, effective, excellent, equitable and empowering' a lot to say in one go but satisfying as we strive to get better!
As a government-approved tenancy deposit protection scheme, we are tasked with key call and email answering times that ensure we respond quickly to customer enquiries, we regularly exceed these targets and test to make sure all enquiries whether direct or via social media are answered promptly.
For example, our average telephone call answering time was under 30 seconds and only a few hours for email enquiries.
[TDS Annual Revie 2018/19 published on website – https://www.tenancydepositscheme.com/resources/files/Annual%20Review%202018-19.pdf ]
What improvements are we making?
There's always room for improvement, so we will continue to ask customer and members to discover new ways to understand the best way to help. Currently we are working closely with landlords and agents to make the online services simpler and more efficient, this is often delivered through the introduction of innovative technology and software to improve our offering as well as the performance of our existing digital tools.
Our team also receives regular training to stay at the forefront of developments in customer service.
TDS is already an industry-leader in terms of our customer service levels, but as the only not-for-profit scheme, we invest heavily in developing our colleagues, products and services to provide real value to our members.
Landlords and agents looking to move to TDS, can now do so online. Find out more about switching to TDS through the links below:
About the author
Louise Walton is TDS' Head of Customer Experiences. She is responsible for overseeing the operational teams and driving change. She has 35 years' experience of leading customer service teams.
About TDS:
Tenancy Deposit Scheme (TDS) is a government-approved scheme for the protection of tenancy deposits; TDS offers both Insured and Custodial protection and provides fair adjudication for disputes that arise over the tenancy deposits that we protect.
We provide invaluable training in tenancy deposit protection and disputes for agents and landlords through the TDS Academy as well as joining with MOL to provide the Technical Award in Residential Tenancy Deposits.
TDS Insured Scheme: where a TDS member can hold the tenancy deposits as stakeholder during the term of the tenancy.
TDS Custodial Scheme: where TDS hold the deposit for the duration of the tenancy.
TDS Academy: TDS provides property professionals with invaluable training in tenancy deposit protection and tenancy deposit disputes.
TDS Northern Ireland: TDS is Northern Ireland's leading and only not for profit tenancy deposit protection scheme.
TDS can only comment on the process for our scheme, other deposit protection schemes may have a different process/require different steps. Content is correct at the time of writing.
Tags: #ExpertView, Expert View, TDS, Tenancy, Deposit, Scheme, Customer Service, Louise Walton