#ExpertView: Tessa's 2018 Legal Changes series – 1. An Introduction to Landlord Legal Changes coming in 2018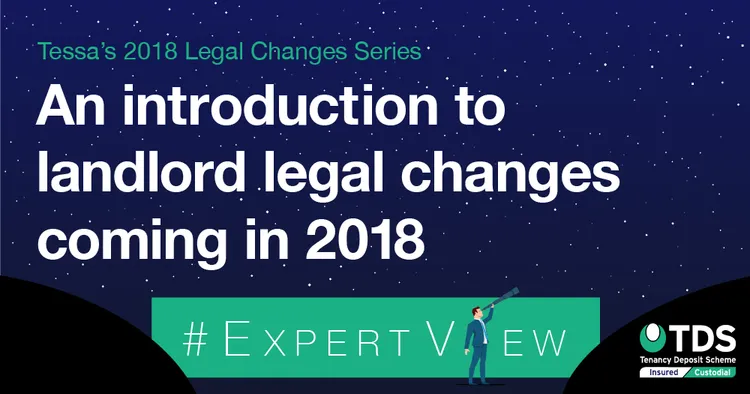 The changes for landlords seem never-ending.  In the past few years, to mention just a few, we have had:
Changes to the deposit rules
Changes to the section 21 rules
New tax rules
New Local Authority enforcement procedures
New rules on smoke and CO alarms, and
Registration and licensing rules in Wales
But if anything, 2018 looks to bring even more changes, already landlords are facing:
Banning orders
A 'rogue landlords' database
New data protection rules, and
Minimum standards for property energy efficiency ratings
Major regulation changes in Wales
Other proposed changes include:
New rules forbidding fees to tenants (for both landlords and agents)
Changes to the HMO licensing regime
Minimum room sizes
Changes to the Housing Health and Safety Rating System
Mandatory Property Redress scheme membership for landlords, and
New rules regarding electrical and gas safety
Potential Cap on Deposits
There are also suggestions that the government is considering imposing longer minimum fixed terms and the Labour Party has recently announced that it will be looking to ban section 21, as has been already done in Scotland.
It sounds like a bad time to be a landlord.
---
However it's not all bad
Government is also looking to introduce mandatory client money protection rules which will help protect landlords' money held by agents and there is a suggestion that specialist housing courts could be on the cards – which would help speed up evictions.
Plus, property is in short supply, so most landlords will have no problems letting their property or charging a reasonable rent.
---
The Update Posts
Last year I did a series of 'tips' posts for this TDS blog, but because there is so much change going on, this year TDS have asked me to do a series of posts looking at the various legal changes that are taking place and giving more information.
If you know what the changes are and how take proper steps to deal with them – they will no longer be a problem.
I'll be back next month with the first update which will be looking at one of the new set of rules coming into force in April.
In the meantime, further information on this and other topics can also be found on my Landlord Law Blog at www.landlordlawblog.co.uk .
---
Tessa Shepperson
Tessa is a lawyer specialising in landlord & tenant law and runs the popular Landlord Law online service for landlords.
---
These views are those of the author alone and do not necessarily reflect the view of TDS, its officers and employees. Content is correct at the time of writing.