#ExpertView: New guide from TDS simplifies busiest day of the year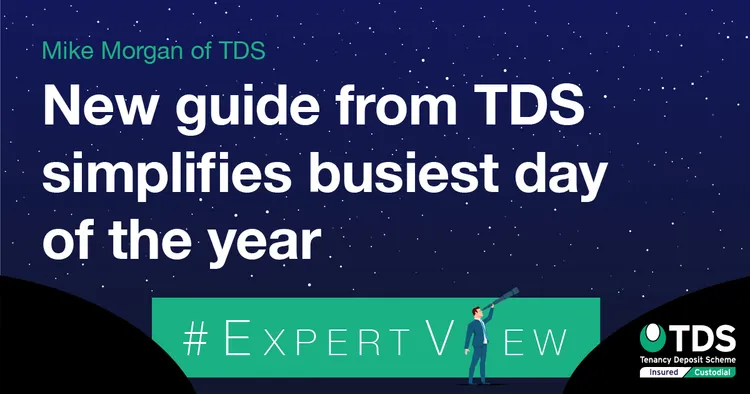 Peak day six times busier than normal
New guide makes end of tenancies easier for landlords, agents and tenants
With the annual busiest day for end of tenancies approaching, the country's leading deposit protection provider TDS has launched a new guide to make the process of concluding a lease easier for tenants, landlords and agents.
TDS expects the third Thursday in September (21st September) to be the busiest period for tenancies coming to an end. The date has been calculated from the peak day over the last ten years. Last year, the third Thursday in September TDS saw 18,000 tenancies coming to an end, compared to the average of 1,300 and 2017 is looking to follow suit.
The downloadable guide gives the latest advice on what to do when a tenant is due to move out of a property, in particular highlighting the key points to address before, during, and after a check-out inspection.
The guide also gives advice on the best approach for negotiating the return of the deposit and promotes the use the new deposit deduction template, recently developed by TDS, to hasten an early agreement.
---
Michael Morgan, director of dispute resolution at TDS, said: "We see many disputes where a few simple steps taken before the end of the tenancy could avoid problems later on. Tools like our new guide and the deposit deduction template provide a solid structure and basis for end of tenancy procedures and to improve deduction negotiations. If tenants better understand the reasons for deductions at an early stage and can see the justification for them, they are much more likely to agree."
Steve Harriott, TDS chief executive added: "This is great guidance for members and their tenants – and another great example of the work being done by TDS to reduce disputes and improve practices for dealing with tenancy deposits."
---
TDS' new guidance is available to download:
https://www.tenancydepositscheme.com/resources/files/end_of_tenancy_guidance.pdf