#ExpertView: Life after lockdown for landlords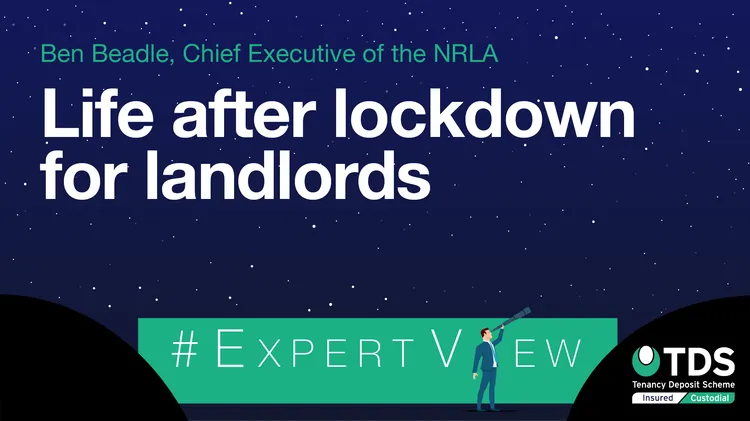 Life after lockdown is something we have all been looking forward to, but it is clear that Covid-19 will leave a lasting legacy that will be felt for years to come.
Life has been slowly getting back to normal in the housing market, with agents' offices opening and viewings and house moves allowed to start again, albeit with social distancing measures in place.
Now, as further restrictions are eased across the board, we look ahead at how the industry will recover.
Rent arrears
While our most recent research has shown that nine in ten tenants have continued to pay their rent during lockdown, many have lost their jobs – a figure that could be set to increase as the economy struggles to recover and furlough schemes are phased out.
As we have said all along, the most important thing you can do if your tenant loses their job or is struggling to make rent payments as a result of Covid-19 is to work with them to sustain the tenancy.
The need to be flexible, as far as possible, remains while tenants are still struggling as a result of the pandemic.
Of course, we understand this is not possible for every landlord. But if you are in a position to defer rent until after benefit payments come through, or offer a reduced rent for a set amount of time this will help, perhaps with agreement on a suitable repayment plan between you and your tenant(s).
If you do need to repossess your property it is likely you will face significant delays as the courts attempt to deal with a significant backlog of cases. The need for communication and compromise has never been more important.
The courts
The government's five-month moratorium on evictions – due to end on 23 August – will have a significant impact on anyone trying to gain possession, especially those who had already begun proceedings when the courts were closed in March.
We have particular concerns for landlords who were trying to evict abusive or anti-social tenants whose hands are tied due to the evictions ban.
The government brought in – and subsequently extended – the evictions ban to protect tenants during the crisis, but the decision is not without its victims.
Research shows 38% of victims of domestic abuse live in private rented housing, a higher proportion than any other tenure with charity Refuge recording a 66% increase in calls to its domestic violence helpline during the pandemic.
There are also those anti-social tenants who are making the lives of neighbours, communities, landlords and fellow tenants a misery.
We have asked the government to prioritise these cases when the courts are opened up again and are representing members on the Judicial Working Group.
Student landlords
Despite the easing of restrictions, student landlords are still facing much uncertainty, with many universities and colleges still to confirm how they will reopen for the next academic year.
Once lockdown restrictions are lifted, students that have been shielding in properties will be able to leave. However there are still issues with students who have left property behind after universities closed and went home to their families.
There is also uncertainty as to whether some or all students who have signed tenancy agreements for next year will actually move in with some institutions stating that, for the first semester at least, all lectures will be online.
The most important thing is to keep lines of communications open and see if there is anything you can do to help and support your tenants or prospective tenants, for example helping to find students to fill empty rooms should someone 'drop out' of a contract.
Staying safe
On a practical note, as we move out of lockdown, it is also worth looking at the operational changes you have implemented during the Covid-19 crisis and whether it would benefit your tenants and your business for them to stay.
While it is hoped we are past the worst in terms of the spread of the virus, there is still talk of a possible second wave during the autumn or winter months.
You should ask yourself – if you have been offering virtual viewings – should you continue to do so, at least for preliminary viewings? It could be both safer and save you time and resources.
Use posters in properties, WhatsApp groups and other means to remind tenants of the importance of handwashing and good hygiene – particularly in shared housing and the communication of other important updates.
Tenants, staff and contractors should also be reminded that they must follow Government advice around social distancing, hygiene and the use of personal protective equipment.
What more can be done?
The NRLA has done significant work to mitigate the impact of Covid-19 on landlords and tenants. Notable successes include:
Ensuring that the Local Housing Allowance rate was lifted to the 30th percentile, ensuring that tenants have the means to meet their commitments.
The provision of mortgages deferrals for landlords where tenants are struggling to pay their rents due to COVID-19.
Obtaining clear statements from the Government – along with the Labour Party –that tenants remain legally obliged to pay their rent and abide by the terms of their tenancy agreements.
Securing reassurances from Ministers that section 21 will not be scrapped immediately – despite pressure from renters' groups. The Housing Minister cited the NRLA's briefings to him in saying this.
Confirmed the Universities Minister was wrong to speak of students being 'entitled' to support such as repayable rent reductions or postponements.
We are now campaigning for further change, including a package of financial support for landlords and tenants. We want:
A clear statement from Government reiterating that those who can pay their rent should do in light of the extension to the ban on repossessions.
Support for tenants most in need through increased benefits and interest free hardship loans.
Support for landlords who have been deprived of their right to evict, and face financial hardship as a result, by providing Government compensation.
Repossession cases to be prioritised when they begin again, with tenants committing anti-social behaviour or domestic violence first in line, along with cases started before lockdown.
Clear plans to ensure courts process legitimate possession claims more swiftly, using online hearings wherever possible.
The impact of the Covid-19 is likely to be felt for some time but it is also likely to give rise to further changes – such as whether we need to travel to be at our desks for 9am when the vast majority of roles can be performed from home, what a key worker really is and also the perennial question of housing security.
It is important that any changes made to the legislative landscape are done in a measured and planned way, with wider industry support, and not as a quick fix to a populist problem.
The private rented sector is key to the provision of safe, legal and secure homes but operating in a way that gives confidence to a battered sector is now more important than ever.
About the Author:
Ben Beadle is chief executive of the National Residential Landlords Association (NRLA), the UK's largest trade body for landlords.
A landlord himself since the age of 20, Ben started out as property manager before working his way up through the ranks at Tenancy Deposit Scheme.
He was then Operations Director at property management business Touchstone before overseeing the merger of the National Residential Landlords Association (NLA) and Residential Landlords Association (RLA) to create the new trade body earlier this year.
His key aims as head of the organisation are to strengthen the voice of landlords in Westminster and Cardiff, to improve the reputation of landlords in the media and to support members through information, training and accreditation.
NRLA: The NRLA updates landlords on all the latest legislation changes affecting the sector and offers expert advice, training and other exclusive services and benefits. It is also committed to representing landlords in Westminster and Cardiff Bay. For 25% off your first year's membership email info@nrla.org.uk and quote reference: dg715.
About TDS
Tenancy Deposit Scheme (TDS) is a Government-approved scheme for the protection of tenancy deposits; TDS offers both Insured and Custodial protection and also provides fair adjudication for disputes that arise over the tenancy deposits that we protect.
You can protect your tenancy deposits for free with DepositGuard Custodial here.
Or alternatively use TDS Insured to protect your tenancy deposits within 30 days of receiving them here.
Find out more about our landlord joining options here.
TDS can only comment on the process for our scheme, other deposit protection schemes may have a different process/require different steps. Content is correct at the time of writing.
These views are those of the author alone and do not necessarily reflect the view of TDS, its officers and employees.