#ExpertView: Keeping up with property market changes – made easy!
In this week's #ExpertView, Kate Faulkner, Property Commentator and Analyst, writes about how to keep up with the constant changes in the property market and how checklists can be useful and easy tools for staying on top of it all.
The world of property is constantly changing. It's quite a task staying up-to-date with what on earth is going on in the property market – especially at the moment during the pandemic! From the latest changes to the 400+ rules and regulations of lettings legislation, planning and building regulation changes to just knowing who you can trust and turn to for help when renting, selling your home, investing, renovating a property or, if someone has let you down, how to complain about a property company – there's a lot to think about.
And that's exactly what we do at www.propertychecklists.co.uk. We explain what's happening in the property market – without any agenda or 'sales pitch'. Our comprehensive property price report is produced every month, and we explain what information you can trust, together with the statistics worth ignoring. We also show how your individual area is performing versus the national picture. For example, some areas such as the North East are seeing average prices 9% lower than they were in 2007, while London has seen a massive 63% rise.
Having done that, our next task is to help make sure anyone carrying out a property project does so successfully. Property projects are quite hard to do because we don't do them very often. With the rules and steps changing at such a pace, it's difficult to know where to start and who can help you. For example, we know that much of the property industry isn't regulated. This means if you choose the wrong company or person to help with your current property, new home or investment, then unfortunately you could lose your money, which could run into thousands or hundreds of thousands of pounds.
The way we help is through a series of checklists from the UK's top property experts, all of whom abide by the latest rules and regulations and who ideally have won awards for the service they offer.
A good example is the work we do with the Tenancy Deposit Scheme (TDS), who kindly support our checklist on protecting tenancy deposits. This helps landlords quickly get to grips with how to deal with tenancy deposits at the start, during and end of a tenancy, and also what to do if there is a dispute.
All the information we provide is free of charge to consumers – or indeed, if you are working in the industry and are asked a question about something you aren't sure of, we can help make sure you don't have to say 'I don't know' anymore!
There is also a wealth of free and useful guides, tools and case studies on the Tenancy Deposit Scheme website. Visit the Information Lounge to find out more.
About the Author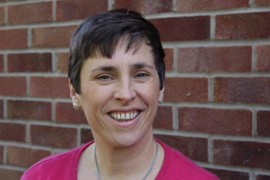 Kate Faulkner
Managing Director at Propertychecklists
Kate Faulkner is one of the UK's leading property experts. She is passionate that most of the problems in the residential property market can be solved if the media, industry and government worked together to educate consumers on how to carry out property projects. To aid this, Kate has set up a free consumer education site Propertychecklists and working groups for Home Buying and Selling and The Lettings Industry Council which are attended by MHCLG.
About TDS
TDS Insured for landlords: where a TDS customer can hold the tenancy deposits as stakeholder during the term of the tenancy. Join TDS Insured today.
TDS Custodial: where TDS hold the deposit for the duration of the tenancy. Landlords, you can protect your deposits for FREE today.
Tenancy Deposit Scheme (TDS) is a Government-approved scheme for the protection of tenancy deposits; TDS offers both Insured and Custodial protection and provides fair adjudication for disputes that arise over the tenancy deposits that we protect.
TDS can only comment on the process for our scheme, other deposit protection schemes may have a different process/require different steps. Content is correct at the time of writing.
These views are those of the author alone and do not necessarily reflect the view of TDS, its officers and employees.