#ExpertView: GDPR – are you ready?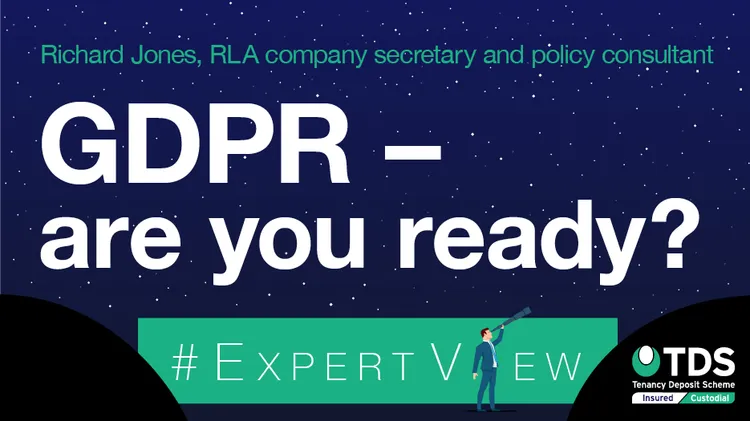 With the GDPR regulations set to take hold in less than two weeks' time, Richard Jones, policy consultant and company secretary for the Residential Landlords Association (RLA), explains what the changes will mean for the private rented sector (PRS).
Major changes to data protection legislation, known as General Data Protection Regulation (GDPR) take effect on 25th May.
Data protection legislation has been around for a long time, but these new, radical changes mean you must now pay a lot more attention to your responsibilities or you could face fines or claims by tenants for damages.
All landlords will be affected, as they handle personal data, so it's important to understand what it will mean in practice.
GDPR is based on existing rules, but there are a number of important changes which will impact landlords:
A new right for the data subject (e.g. the tenant) to be given a privacy notice containing information about how their data is used.
Deadlines are set for the timing of providing this information
Where you rely on consent as the gateway for handling data there are more stringent requirements about obtaining consent
The need to record how you handle data and decisions you make around this.
Greater emphasis on ensuring that data is held securely
Stricter enforcement of time limits for holding data
New rights for tenants giving them greater control over what happens to their personal data
Obligations to notify the Information Commissioner's Office (ICO) and in some cases the individual affected if there is a personal data breach
The RLA has already produced in-depth guidance on GDPR as well as an online training course for landlords and agents.
An exclusive members' pack is also now available, outlining what you need to know to make sure you are compliant.
It includes:
A step-by-step guide outlining what landlords must do to comply
A landlords' data audit checklist to help you identify what personal data you hold about your tenants and how you handle that data
A sample privacy notice that you can tailor to reflect your own circumstances
Consent forms for tenants to sign
To access the new guide and documents visit our dedicated GDPR pages. You will need your membership details to log in.
To read more click here.
About the author

Richard Jones is the RLA company secretary and was policy director at the RLA from 2002.
Despite retiring from this role in 2015 he continues to operate as a policy consultant for the association.
He is a solicitor in private practice and has advised many private landlords over the years, focussing on landlord and tenant and housing related matters.
About RLA
The Residential Landlords Association has over 30,000 members nationwide, with a combined portfolio of over a quarter of a million properties.
About TDS
Tenancy Deposit Scheme (TDS) is a Government-approved scheme for the protection of tenancy deposits; TDS offers both Insured and Custodial protection and also provides fair adjudication for disputes that arise over the tenancy deposits that we protect.
We provide invaluable training in tenancy deposit protection and disputes for agents and landlords through the TDS Academy as well as joining with MOL to provide the Technical Award in Residential Tenancy Deposits.
TDS Insured Scheme: where a TDS member can hold the tenancy deposits as stakeholder during the term of the tenancy.
TDS Custodial Scheme: where TDS hold the deposit for the duration of the tenancy.
TDS Academy: TDS provides property professionals with invaluable training in tenancy deposit protection and tenancy deposit disputes.
TDS Northern Ireland: TDS is Northern Ireland's leading and only not for profit tenancy deposit protection scheme.
TDS can only comment on the process for our scheme, other deposit protection schemes may have a different process/require different steps. Content is correct at the time of writing.
These views are those of the author alone and do not necessarily reflect the view of TDS, its officers and employees.
ARLA|Propertymark: For agents who would like to stay up to date, you can contact Propertymark | ARLA at: join@propertymark.com. By being a member of Propertymark | ARLA you will be eligible for TDS Insured best headline rates.
RLA: If you are a landlord and would like to keep up to date with any changes that may affect you or your responsibilities, you can contact the RLA at: info@rla.org.uk and quote reference: dg715 to receive 25% off your first year's membership.