#ExpertView: Crisis ahead unless Government steps up support
Landlords have gone above and beyond to support tenants struggling to pay rent as a result of Covid-19.
But as new figures show more than half of landlords have lost money and a third are thinking of selling homes, the National Residential Landlord Association (NRLA) is calling on the Government to act now to prevent a widespread rental crisis and this seems to be a shared opinion.
The NRLA is united with other landlord, agent and tenant organisations, with groups including Shelter and The Big Issue joining us in calling on the Government for a package of financial support for the sector. It is now almost a year since the start of the pandemic. Anecdotally we have known for some time that landlords and tenants are struggling.
Now we have the evidence to prove just how serious the situation is.
Interim findings from the NRLA's latest members' survey for quarter four of 2020 found 56% of landlords had lost rental income as a result of the pandemic, with 12% having lost more than 20% of that income. Almost a quarter of those losing rental income (22%) had lost more than £5,000 and more than a third (36%) say the losses are continuing to build.
This has happed at the same time as some landlords have been hit in the pocket in other ways – through being put on furlough or losing work, with 26% affected. In all, 20% of these have lost more than £5,000.
At the same time a survey of current tenants by research consultancy Dynata – commissioned by us here at the NRLA – shows more than 840,000 renters are currently in arrears.
Around 150,000 of these owe more than £1,000.
These are just the number of renters currently in arrears. The figure does not include arrears built by tenants that have simply up and left or include losses through concessions offered to tenants by their landlords, such as rent -free periods or deferrals.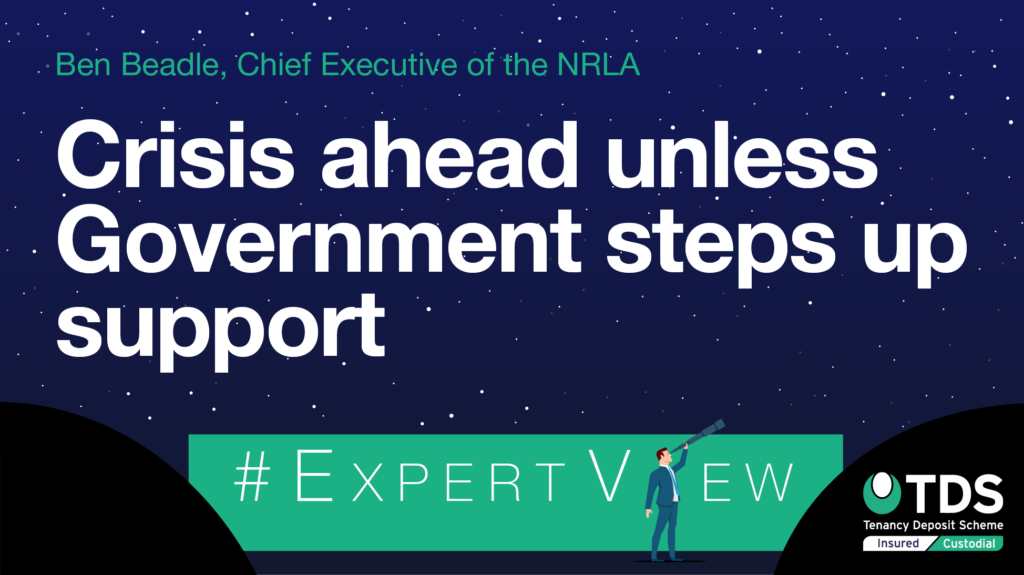 Action is needed
Throughout the pandemic we have reported on those landlords going above and beyond as tenants struggled to cope with the impact of the pandemic.
Most landlords are not property tycoons with limitless funds. 94% of properties are owned by individuals, and 45% own just one or two properties. They too have mortgages and bills to pay – and many have also been affected by the pandemic, just as their tenants have.
With the country once again in lockdown, the Government has extended its repossessions ban once again in a bid to 'keep tenants in their homes'.
However, this is a short-term solution that will do nothing to sustain tenancies in the long term.
The Government is simply kicking the can down the road, whether the ban on repossessions is extended further, is not the key issue.
Rather than allowing tenants to build up more and more debt, it needs to take direct action – as we have seen already in Scotland and Wales – to help keep tenants in their homes and paying their rent.
This support should include a mixture of Government guaranteed, interest free, hardship loans and a boost to benefits for those relying on them, rather than cutting this support as announced in the Spending Review.
A failure to do this will mean a greater chance that tenants will lose their homes. Enforcement of debt orders against a tenant will largely preclude them from any future tenancy in the private rented sector, due to a damaged credit score. The pressure on local authorities will increase, as will homelessness.
It does not need to be this way.
More information
The NRLA is continuing to campaign for a comprehensive package of financial support for landlords and tenants affected by the Covid-19 pandemic ahead of the Budget in March. To read more about the campaign and get involved, click here.
---
About the Author
Ben Beadle is chief executive of the National Residential Landlords Association (NRLA), the UK's largest trade body for landlords.
A landlord himself since the age of 20, Ben started out as property manager before working his way up through the ranks at Tenancy Deposit Scheme (TDS).
He was then Operations Director at property management business Touchstone before overseeing the merger of the National Landlords Association (NLA) and Residential Landlords Association (RLA) to create the new National Residential Landlords Association (NRLA) trade body last year.
His key aims as head of the organisation are to strengthen the voice of landlords in Westminster and Cardiff, to improve the reputation of landlords in the media and to support members through information, training and accreditation.
NRLA: The NRLA updates landlords on all the latest legislation changes affecting the sector and offers expert advice, training and other exclusive services and benefits Find out more about becoming a member of the NRLA by looking at landlord joining options today.
---
About TDS
Tenancy Deposit Scheme (TDS) is a Government-approved scheme for the protection of tenancy deposits; TDS offers both Insured and Custodial protection and provides fair adjudication for disputes that arise over the tenancy deposits that we protect.
You can protect your tenancy deposits for free with TDS via the NRLA here.

_________________________________________________________________________________________
TDS can only comment on the process for our scheme, other deposit protection schemes may have a different process/require different steps. Content is correct at the time of writing.
These views are those of the author alone and do not necessarily reflect the view of TDS, its officers and employees.