#AskTDS: Who is responsible for property maintenance?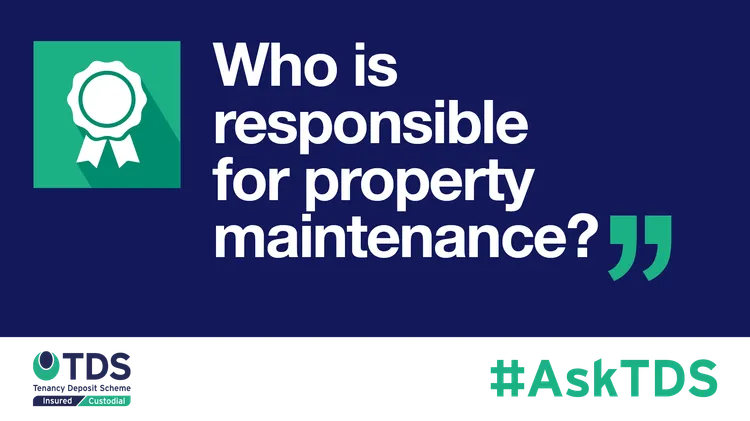 In this week's #ASKTDS, we answered a question regarding property maintenance: 'Who is responsible for what when it comes to property maintenance tasks in a rental property?'.
TDS property maintenance quiz insight
There appears to be some confusion amongst agents and landlords concerning the maintenance of rental properties, based on our results from the recent Tenancy Deposit Schemes (TDS) property maintenance quiz.
Though 94% of agents and landlords who responded to the quiz correctly understood that the landlord is primarily responsible for the exterior and structure of the property (including walls, stairs, bannisters, doors, windows, roof and guttering), only 30% believed that this responsibility extended to the garden or outdoor space, and just 14% of responders believed landlords should be held responsible for clearing guttering and ensuring external pipes/drains are free from debris.
The numbers increased when we asked more obvious questions, such as who is responsible for electric wiring (98% agreed the landlord) and who should maintain the boiler, heating and hot water (96% agreed it should be the landlord).
Where does the confusion lie?
Where we saw confusion are tasks that are a joint responsibility or maintenance that's required due to tenant neglect.
For example, 61% of agents and landlords agreed that landlords are responsible for maintaining basins, sinks, baths and taps, but when chips appear, 31% believed this is down to the tenant to fix.
Whilst each case is subjective, chips and cracks are likely to be the tenant's responsibility assuming they were in good condition at the start of the tenancy, whilst taking into account product life span and fair wear and tear.
Similarly, 45% of our quiz respondents thought damp and mould is for the landlord to fix, 43% believed it to be a joint responsibility, and 12% the tenant's responsibility alone.
TDS advises it's important to clarify at the start of a tenancy whether maintenance work is a joint responsibility.
In this instance, if a tenant neglects housekeeping during a tenancy and a build-up of mould occurs, deductions from the tenancy deposit may be required to cover the cost.
However, if there is no evidence to prove it was the tenant's fault, it would be down to the landlord to fix.
Determine who is responsible for what to avoid deposit disputes.
A detailed tenancy agreement is crucial to ensure both parties are well informed about what they are required to do during the tenancy.
TDS recommends that agents and landlords ensure the deposit use clauses in the tenancy agreement covers property maintenance issues, and issuing an inventory that lists the condition of every room and directions for maintaining the property will help avoid deposit disputes.
Guide for Property Maintenance
In partnership with the NRLA, TDS has created an Autumn property maintenance guide. The guide details precisely what a landlord is legally required to maintain, what the tenant's responsibilities are, and a helpful checklist for your property maintenance tasks.
You can read common Q&As from landlords on property maintenance, as well as TDS tips on how to avoid a deposit dispute.
Not with TDS?
Joining TDS is simple!
It only takes a few minutes to join today. We've made this easy if you'd like to transfer from another scheme. Visit our switch page and we'll handle the rest.