#AskTDS: "What makes TDS different?"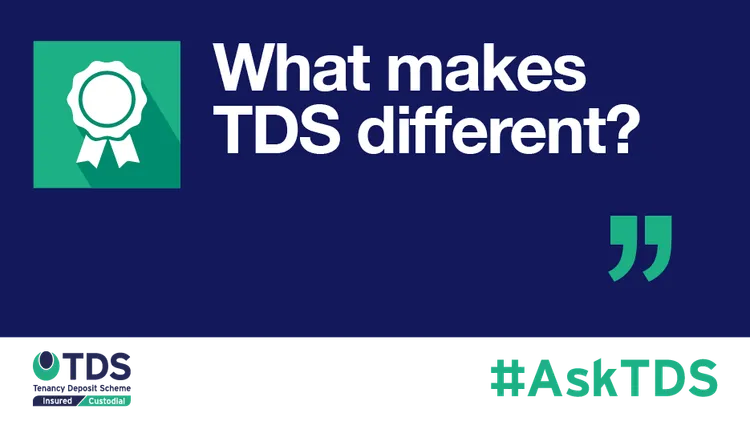 Tags: agent, custodial, deposit, insured, landlord, legal, legislation, prescribed information, protection, scheme, tdp, tds, tenancy, tenant
All tenancy deposits taken by landlords (or by a landlord's agent) on or after 6 April 2007, must be protected by a government-approved scheme. When TDS (Tenancy Deposit Scheme) launched in 2003..
All tenancy deposits taken by landlords (or by a landlord's agent) on or after 6 April 2007, must be protected by a government-approved scheme. When TDS (Tenancy Deposit Scheme) launched in 2003, tenancy deposit protection (TDP) was initially a voluntary option but became mandatory in 2007. Since then, TDS has consistently developed its offering and refined its customer service.
But what makes TDS different?
TDS was the original Tenancy Deposit Scheme in England and Wales, launched by industry leaders RICS (Royal Institution of Chartered Surveyors) and ARLA | NAEA Propertymark and it has since made a name for itself with its excellent customer service levels, advances and industry training with its TDS Academy.

TDS – the only not-for-profit TDP scheme
TDS is the only not-for-profit provider, meaning that any surplus profit can be invested into continued improvements in customer service levels.
The not-for-profit model has allowed us to invest in helping our customers to 'hassle free;' tenancy deposit protection. For example, the scheme introduced "Bulk Upload of Deposits" for TDS Custodial members to allow letting agent memmbers to add details of multiple deposits simultaneously. This feature was regularly requested by users of our Custodial scheme and is just one of the many improvements we have made to create a more streamlined and efficient service.
Educators within the sector
The TDS team attends numerous landlord, agent and tenant events throughout the year in England, Wales and Northern Ireland, illustrating our commitment to educating landlords, agents and tenants on their responsibilities relating to deposit protection.
Our experience within the sector is unrivalled and has allowed TDS to offer highly-rated training courses for agents, landlords and industry professionals with our TDS Academy. TDS Academy seeks to improve the knowledge of deposit protection requirements with the Foundation Course, Adjudication Workshop and Certification through the MOL Level 3 Propertymark Award in Residential Tenancy Deposit Protection and Management.
Commitment to Customer Service levels
TDS is proud of its call and e-mail answering times and boasts that calls are answered within 30 seconds and emails responded to within just a few hours. We are keen to promote transparency within our industry and release an annual report containing our call and email answering times, dispute resolution times as well as other key business statistics, providing customers with clarity on how we operate and continue to improve year on year.
How do I become a member of TDS?
Joining TDS is quick and easy and can be done completely online. For landlords using the TDS Custodial scheme, all you need is a UK bank account to hold the deposit and you must be the owner and landlord of the property. The TDS Custodial Scheme is free to join and is a free scheme to use.
In the TDS Insured Scheme, agents and landlords are charged on an annual subscription basis. Each year we take a snapshot of the number of live tenancies our agent and landlord members have registered and then an annual invoice is produced. TDS also offers the option to pay the annual invoice in full, monthly or quarterly instalments at no additional cost.
You can find out more about both schemes in our blog and join TDS at: https://www.tenancydepositscheme.com
About TDS:
Tenancy Deposit Scheme (TDS) is a government-approved scheme for the protection of tenancy deposits; TDS offers both Insured and Custodial protection and also provides fair adjudication for disputes that arise over the tenancy deposits that we protect.
We provide invaluable training in tenancy deposit protection and disputes for agents and landlords through the TDS Academy as well as joining with MOL to provide the Technical Award in Residential Tenancy Deposits.
TDS Insured Scheme: where a TDS member can hold the tenancy deposits as stakeholder during the term of the tenancy.
TDS Custodial Scheme: where TDS hold the deposit for the duration of the tenancy.
TDS Academy: TDS provides property professionals with invaluable training in tenancy deposit protection and tenancy deposit disputes.
TDS Northern Ireland: TDS is Northern Ireland's leading and only not-for-profit tenancy deposit protection scheme.
TDS can only comment on the process for our scheme, other deposit protection schemes may have a different process/require different steps. Content is correct at the time of writing.
These views are those of the author alone and do not necessarily reflect the view of TDS, its officers and employees.