#AskTDS: "The value of my claim is more than the deposit – should I go to court instead?"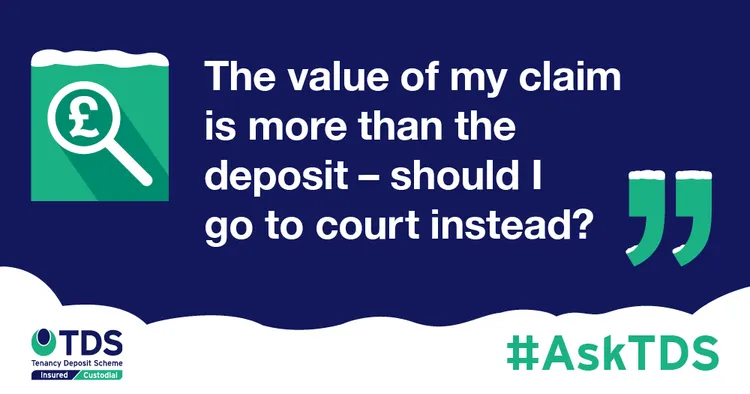 This article has been written in response to a landlord's query: "The value of my claim is more than the total amount of the deposit – should I take my tenant to court instead?"
Although this blog series regularly covers disputes and deductions from a tenant's deposit, less than 2% of all  tenancy deposits protected with TDS actually end in dispute. Many tenancies end with no issues from either party and the deposit is returned to the tenant with or without agreed deductions.
In a few cases, the amount of money that a landlord or agent wants to claim from a tenant's deposit is actually more than the value of the deposit. This is often seen in situations where tenants have moved out unexpectedly and stopped paying their rent; this breaches their tenancy agreement and leaves the landlord out of pocket. In most cases, the landlord will want to claim rent arrears from the tenancy deposit to cover their costs.
Other situations where the value of a claim could be more than the total deposit include extensive damage to a rental property or the unauthorised removal of fixtures and fittings. In worst case scenarios, a landlord may find they have suffered a loss through both rent arrears as well as subsequent damage to the property.
In all of these cases a dispute can be raised with TDS detailing the full amount of the claim, but we can only award up to the value of the deposit registered. We always recommend stating all items you are claiming for on your dispute even if the total is higher than the deposit as if you are not awarded costs for one item, this can free up funds to be awarded to a different claim. If you want the adjudicator to follow the order of claims as set out in the tenancy agreement deposit use clause, remember to tell us this when completing your claim in our online disputes portal. Once we have exhausted the total amount of deposit, you could then take the rest of your claim to court.
Alternatively, if you would prefer all aspects of your claim to be dealt with together, you can take your entire claim to court and we would then pay the deposit in accordance with the court judgement, as long as we have received the disputed amount. We will not pay out any money until we have received a court order instructing us to do so.
---
 "My dispute is not just about the deposit. What should I do?"
We sometimes see instances where the dispute is raised as the tenants are unable to reach an agreement between themselves as to proposed deductions. We also see cases where the dispute is actually between the landlord and the managing agent and not the tenant. The dispute service can only be utilised where the parties are unable to agree to deductions from a deposit; disputes between tenants and landlord. TDS are also unable to consider counterclaims or set offs brought by either party. If there are other matters or issues between the parties that are separate from how the deposit is divided, we recommend that you seek independent legal advice on the best way to resolve these matters.
---
The Tenancy Deposit Scheme (TDS) is a government approved scheme for the protection of tenancy deposits; we offer both insured and custodial protection. We also provide fair adjudication for disputes that arise over the tenancy deposits that we protect.
TDS can only comment on the process for our scheme, other deposit protection schemes may have a different process/require different steps. Content is correct at the time of writing.