#AskTDS: "The tenant can't give me an address for after the tenancy ends. How do I complete the Prescribed Information?"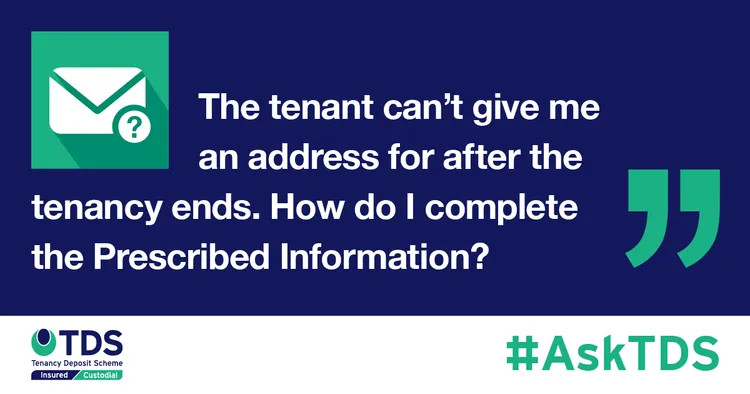 This article has been written in response to an agent's query: "The tenant can't give me an address for after the tenancy ends. How do I complete the Prescribed Information?"
The Prescribed Information is a document that has to be served to the tenant (and any relevant person) as part of the deposit protection legislation.
This document provides the tenant with the specific details of the deposit protection, where the deposit is protected and how the deposit protection scheme works.  It has to be issued to the tenant(s) within 30 days from and including the date the landlord/agent receive the deposit, relating to the assured shorthold tenancy.  This is irrespective of whether or not the funds have cleared.
Both landlord/agent and the tenant(s) (all tenants noted on the tenancy agreement) should sign the last page of the Prescribed Information. The tenants should then return the signed document.
The Prescribed Information also requires details of the tenant(s) to be used at the end of the tenancy.  It is common for tenants to question this section of the Prescribed Information as it seems unusual to ask for an address for use at the end of a tenancy when the tenancy itself has not yet commenced.  It is beneficial, however to stress the importance of fully completing this information as it enables you as a landlord/agent to have the means to contact the tenant to discuss the deposit and any proposed deductions once the tenancy has ended.
It is helpful to know that this address does not need to be the address where the tenant(s) will reside at the end of the tenancy, they may give the address of a friend/relative or employer if that is easier.  The important part is that this address can be used to contact the tenant to discuss the deposit. It is important to note that each tenant and each relevant person should complete this section of the Prescribed Information.
---
 "What is meant by the term 'relevant person'?"
A "relevant person" is a person, company or organisation who, in accordance with arrangements made with the tenant, paid the deposit on behalf of the tenant.  Examples of this could be a local authority, employer, parent or guarantor.
Landlords/agents should establish, when a tenant applies for a tenancy, whether a deposit has been (or will be) paid by someone other than the tenant.  This is because the landlord/agent will have to serve the Prescribed Information on tenant(s) and relevant person.
---
The Tenancy Deposit Scheme (TDS) is a government approved scheme for the protection of tenancy deposits; we offer both insured and custodial protection. We also provide fair adjudication for disputes that arise over the tenancy deposits that we protect.
TDS can only comment on the process for our scheme, other deposit protection schemes may have a different process/require different steps. Content is correct at the time of writing.