#AskTDS: "My tenant wants their partner to move in with them; how will this affect the deposit?"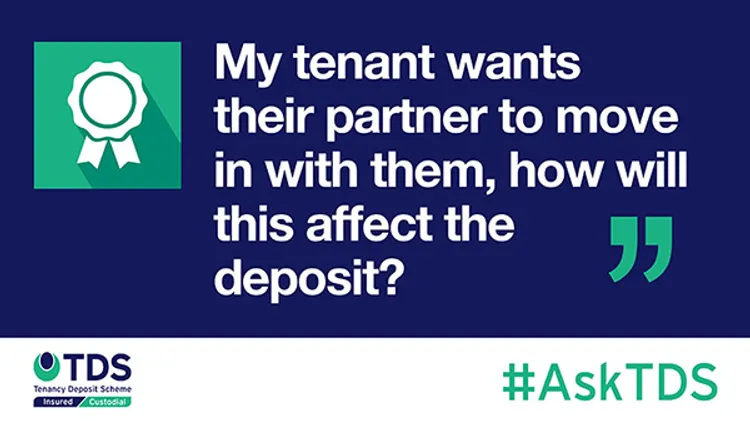 In this week's #AskTDS, we answer a landlord's question: "My tenant wants their partner to move in with them; how will this affect the deposit?"
Romance is in the air as Valentine's Day is almost upon us. For some, that can mean asking the big question – no, not "will you marry me?", but – "will you move in with me?"
Moving in with a partner is a big step in any relationship, but aside from considering whether you can cope with your partner's smelly feet or penchant for eating biscuits in bed, there are also implications for the tenancy deposit.
Tenants wanting to make a change to the tenancy agreement should always check whether moving a partner in to the rented property is allowed; there are not only legal factors to be considered but this can have a knock-on effect for the tenancy deposit, its protection and who it's returned to at the end of the tenancy term.
For example, if a tenant is currently staying in a privately rented property and they want their partner to move in with them, they may have to seek permission from the landlord, or letting agent acting on the landlord's behalf, to confirm that this is going to be agreeable. The tenancy may already set out what can and cannot be done. This should be arranged formally and in writing as with any transaction. The path of true love is not always smooth!
The landlord or letting agent can then confirm whether the change can be agreed and under what terms – there may even be a formal document to complete. This is because the landlord may want the new party to the tenancy to be added to the agreement, or allow them to live at the property as a tenant or a permitted occupier. If they're considered a tenant, and the tenancy reflects this change, the landlord or agent will have to add them to the tenancy agreement and they will need to agree to be bound by the terms of the tenancy (often even from when it started). These considerations will then determine how the landlord deals with any tenancy deposit as they may have to amend the registration with the deposit protection scheme they use and issue new documents.
Tenants should always ask permission to move a partner in, even if there is no specific clause prohibiting it in the tenancy agreement. It's important to ensure this happens as it can affect the performance of the tenancy. To ensure that everyone involved is properly protected, the change may also affect the rent.
What about if the partner pays half of the rent – will that be considered a sub-let? We face this kind of question regularly from both tenants and landlords. To clarify, the tenant is the person listed on the tenancy but there are some areas that landlords should be aware of that could cause legal issues. For instance, if the person not listed on the tenancy can prove that they paid rent directly to the landlord and this was accepted, this may suggest that they had been recognised as a formal tenant. This is a legal question and landlords will want to ensure they protect themselves and their tenants to make sure all amendments are done correctly.
Landlords must act as soon possible if they have discovered a breach of the tenancy agreement terms; usually, the agreement would prohibit sub-letting or under-letting of the accommodation without formal authority.
For landlords who are adding a new tenant, we recommend creating a new tenancy agreement or an addendum as it better protects them and records what has been accepted by all parties. In addition, the landlord or the letting agent should make sure that, if required, new Prescribed Information is issued and that the incoming tenant agrees in writing to be bound by the original inventory. If the incoming tenant refuses to do this, you may wish to consider checking out all tenants to avoid disputes later on. This will help clarify who gets any amounts from the tenancy deposit that remain once the tenancy has ended.
Like all good love stories, there are some key administrative burdens that need attention in these situations and moving a partner into your home is exciting but some of these changes often get forgotten. Landlords should bear in mind their responsibility to ensure that tenants in their properties are properly protected and are not in breach of their tenancy agreements. Managing this change and completing the documents correctly as soon as possible help ensure the letting and love don't go sour!
Happy Valentine's Day.
About TDS
Tenancy Deposit Scheme (TDS) is a government-approved scheme for the protection of tenancy deposits; TDS offers both Insured and Custodial protection and also provides fair adjudication for disputes that arise over the tenancy deposits that we protect.
We provide invaluable training in tenancy deposit protection and disputes for agents and landlords through the TDS Academy as well as joining with MOL to provide the Technical Award in Residential Tenancy Deposits.
TDS Insured Scheme: where a TDS member can hold the tenancy deposits as stakeholder during the term of the tenancy.
TDS Custodial Scheme: where TDS hold the deposit for the duration of the tenancy.
TDS Academy: TDS provides property professionals with invaluable training in tenancy deposit protection and tenancy deposit disputes.
TDS Northern Ireland: TDS is Northern Ireland's leading and only not for profit tenancy deposit protection scheme.
TDS can only comment on the process for our scheme. Other deposit protection schemes may have a different process/require different steps. Content is correct at the time of writing.
These views are those of the author alone and do not necessarily reflect the view of TDS, its officers and employees.
ARLA|Propertymark: For agents who would like to stay up to date, you can contact Propertymark | ARLA at: join@propertymark.com. By being a member of Propertymark | ARLA you will be eligible for TDS Insured best headline rates.
RLA: If you are a landlord and would like to keep up to date with any changes that may affect you or your responsibilities, you can contact the RLA at: info@rla.org.uk and quote reference: dg715 to receive 25% off your first year's membership.