#AskTDS: "I am about to renew my tenant's tenancy, how will it affect the tenancy deposit?"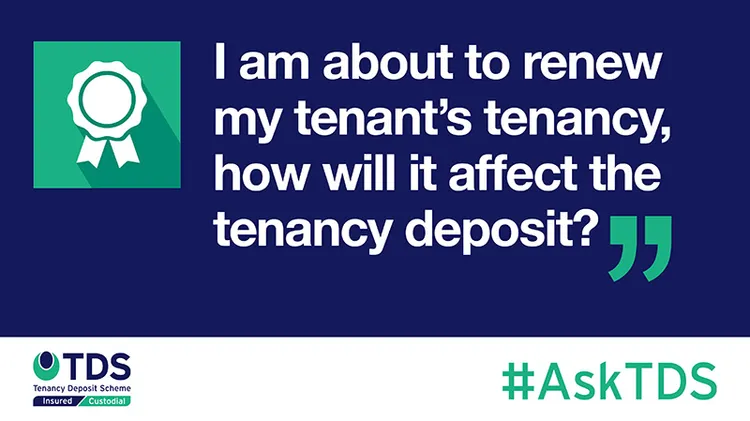 In this week's #AskTDS, we answer a landlord's question of how renewing the current tenancy with his tenants will affect his tenant's deposit. 
For many landlords, the idea of having long-term, reliable tenants who are keen to renew their tenancy is one they'd be happy with as it takes the hassle away from having to look for new tenants and rebuild the relationship.
In some cases, however, some action must be taken regardless of the fact the tenant stays the same.
For letting agents who manage the property for a landlord, the end-date on a tenancy deposit certificate can simply be amended. In order to update the parties, it's best practise to re-serve any documentation. While this is desirable and recommended, it is not a requirement of the Deregulation Act 2015. It does, though, ensure a paper trail is available for both parties which could become useful should a dispute arise at the end of the tenancy.
If there are any changes to the tenancy such as a change of tenant within the tenant group, a change of landlord, change of property address (i.e. the landlord has another property for the tenants to move in to), or a change from one tenancy deposit scheme to another, then there is a requirement to update and re-serve the Prescribed Information and scheme leaflet.
For landlords using our TDS Insured scheme, which is a pay-as-you-protect service where they  enter into a new fixed term agreement, even with all the other terms being the same, then the first registration can  be ended and the tenancy deposit re-registered and paid for via the landlord's account for the new term. Once emails of confirmation have been received, the Prescribed Information and scheme leaflet can be sent and served as required for the new registration.
If the tenancy 'rolls over' into a periodic agreement without any material chnages, then the tenancy deposit is still registered for protection.
Although it can be difficult to get your head around, our expert customer service teams can offer help and advice. If you are still unsure about whether or not you need to re-protect a deposit, legal advice should be sought. 
About TDS
Tenancy Deposit Scheme (TDS) is a Government-approved scheme for the protection of tenancy deposits; TDS offers both Insured and Custodial protection and also provides fair adjudication for disputes that arise over the tenancy deposits that we protect.
We provide invaluable training in tenancy deposit protection and disputes for agents and landlords through the TDS Academy as well as joining with MOL to provide the Technical Award in Residential Tenancy Deposits.
TDS Insured Scheme: where a TDS member can hold the tenancy deposits as stakeholder during the term of the tenancy.
TDS Custodial Scheme: where TDS hold the deposit for the duration of the tenancy.
TDS Academy: TDS provides property professionals with invaluable training in tenancy deposit protection and tenancy deposit disputes.
TDS Northern Ireland: TDS is Northern Ireland's leading and only not for profit tenancy deposit protection scheme.
TDS can only comment on the process for our scheme, other deposit protection schemes may have a different process/require different steps. Content is correct at the time of writing.
These views are those of the author alone and do not necessarily reflect the view of TDS, its officers and employees.
ARLA|Propertymark: For agents who would like to stay up to date, you can contact Propertymark | ARLA at: join@propertymark.com. By being a member of Propertymark | ARLA you will be eligible for TDS Insured best headline rates.
RLA: If you are a landlord and would like to keep up to date with any changes that may affect you or your responsibilities, you can contact the RLA at: info@rla.org.uk and quote reference: dg715 to receive 25% off your first year's membership.