#AskTDS: "My tenants are about to move in. How do I carry out a check-in remotely during Covid-19?"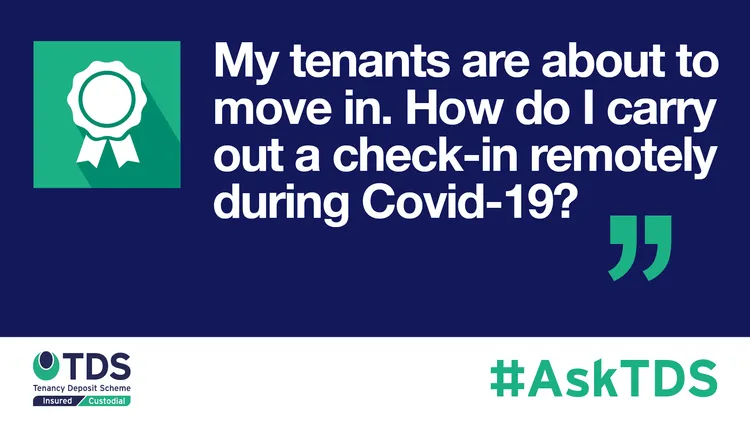 In response to the concerns surrounding tenancy deposit protection during this unprecedented time, TDS has created a Covid-19 FAQ web page where you will find advice on the most common questions asked by letting agents, landlords and tenants.
In this week's #AskTDS, we answer a question from a landlord: "My tenants are about to move in. How do I carry out a check-in remotely during Covid-19?"
As a result of the social restrictions, put in place by the Government due to the coronavirus pandemic, TDS has received many calls from concerned and letting agents and landlords about how to conduct check-in reports and inventories. Accompanied visits are discouraged during lockdown so what can you do maintain the tenancy process and avoid deposit disputes in the future?
Whilst it is advised, and the tenant should be given the opportunity to be present, it isn't in fact compulsory to have the tenant present at check-in. It can certainly help to iron out any issues early on and clarify tenant/landlord responsibilities in the tenancy agreement, which can help to prevent disputes at end of tenancy, but this can be achieved remotely during Covid-19 and even during 'normal' times.
Right now, it isn't possible to do an accompanied check-in together, but the tenant will still need to review the condition of property, and review and return the inventory to you, ideally within seven days. We recommend they raise any cleaning issues within 48 hours.
If they don't return the document within that time, do prompt the tenant. The very nature of the current situation we are all in can cause delays. This is why it is vital that, as the letting agent or landlord, you keep a detailed record of your communications with the tenant so that, if a deposit dispute is raised in the future, you will be able to provide evidence to support your case or respond to the claim.
If, after following up with the tenant, you still don't receive any comments regarding the inventory, we recommend you send an email to the tenant. The email should state that, due to not receiving a response in the timeframe set, it is now agreed that the document is a full and binding reflection of the content, condition and cleanliness of the property at the start of the tenancy.
If you would like to know more about how to navigate tenancy deposit protection during Covid-19, please visit the FAQ page to read further advice or submit your questions to TDS.
---
About TDS
Tenancy Deposit Scheme (TDS) is a Government-approved scheme for the protection of tenancy deposits; TDS offers both Insured and Custodial protection and provides fair adjudication for disputes that arise over the tenancy deposits that we protect.
We provide invaluable training in tenancy deposit protection and disputes for agents and landlords through the TDS Academy as well as joining with MOL to provide the Technical Award in Residential Tenancy Deposits.
TDS Insured Scheme: where a TDS member can hold the tenancy deposits as stakeholder during the term of the tenancy. Join TDS Insured today.
TDS Custodial Scheme: where TDS hold the deposit for the duration of the tenancy. Join TDS Custodial for FREE today
TDS Academy: TDS provides property professionals with invaluable training in tenancy deposit protection and tenancy deposit disputes. Click here to see upcoming TDS Academy's.
TDS can only comment on the process for our scheme, other deposit protection schemes may have a different process/require different steps. Content is correct at the time of writing.
These views are those of the author alone and do not necessarily reflect the view of TDS, its officers and employees.
---
ARLA|Propertymark: For agents who would like to stay up to date, you can contact ARLA | Propertymark here. By being a member of Propertymark | ARLA you will be eligible for TDS Insured best headline rates.
NRLA: If you are a landlord and would like to keep up to date with any changes that may affect you or your responsibilities, you can receive 25% off your first year's membership when joining here.