#AskTDS: My tenant has complained of a mould and damp problem, what do I do next?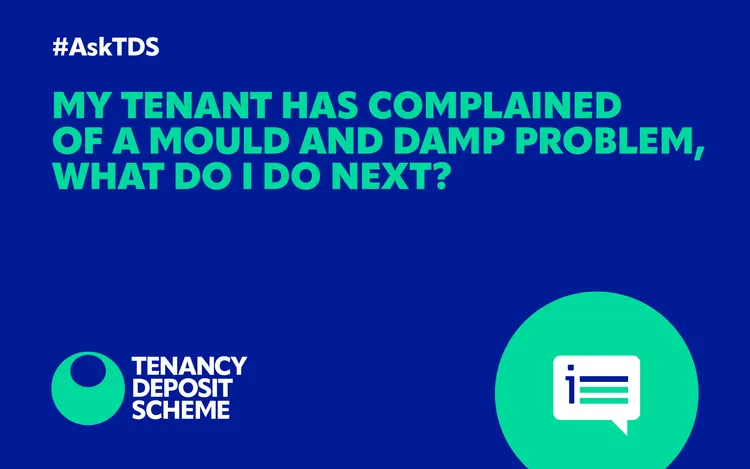 Mould and damp are repeat offenders in tenancy disputes. If left unattended, mould can wreak havoc in homes, causing wooden window frames to rot, staining carpets, and damaging walls resulting in peeling and cracks. And living in a mould-infested property isn't just unsightly; it can lead to various health issues including respiratory infections, allergies, and severe health problems demanding immediate attention. Upon discovering a mould or damp problem, swift action is crucial to prevent its escalation. Our TDS survey on mould and damp revealed that two-thirds of responding landlords had encountered mould in their properties. In light of this and the Government's recent update to its mould and damp guidance, we delve into the necessary steps to address mould problems in your property.
Establish the cause
In general, the common causes of mould in properties are:
Build-up of condensation
Steam created from cooking, boiling kettles, bathing and showering and unvented tumble dryers
Poor ventilation
Furniture too close to exterior walls
Leaking pipes and roofs
Clutter
Less likely, you may find rising damp is the cause, where water from the ground is entering the building and travelling up through pores in the brickwork, but this is a structural issue and would need to be dealt with by the landlord.
In our survey, the causes for mould varied, but the most common rooms that suffered were bathrooms and bedrooms.
A quarter of mould cases were caused by poor ventilation
Drying clothes indoors was responsible for 21% of mould cases
Showering without opening windows was the cause in 17% of mould cases
Property Inspections are key
Fortunately, the results from our survey confirmed that landlords are on the case, with 8 out of 10 advising their tenants on how to avoid mould should it become an issue. Providing condensation advice too, is beneficial.
Our survey also revealed that 50% of landlords and agents said they did not check for mould at every inspection stage (check-in, mid tenancy and check-out), nor do they mention mould and damp in the tenancy agreement specifically. At the Tenancy Deposit Scheme, we recommend ensuring you check for mould throughout the tenancy to help avoid mould and damp-related disputes.
We encourage all property professionals to include as much information as possible in tenancy agreements and to issue guidance so that tenants are aware of their responsibilities and steps that can be taken regarding mould. If a claim is made for mould at the end of a tenancy, then a landlord should provide evidence, such as a third party specialist contractor's report, to show the cause of the mould that has arisen.
If you'd like to learn more, please take a look at our case studies or visit our help centre.
Government guidance
The Government has recently updated its guidance on mould and damp in rented homes. It provides information on the health effects of damp and mould, people at increased risk and the legal standards on damp and mould in rented homes.
The joint guidance, produced by the Office for Health Improvement and Disparities, the Department for Levelling Up, Housing and Communities, and the UK Health Security Agency, addresses the identification and reduction of damp and mould in various accommodations. It covers social landlords, private landlords, managing agents, temporary accommodation providers, asylum support accommodation providers, and accommodation for ex-offenders. The guidance emphasises the importance of promptly addressing observable evidence of dampness to protect tenant health and prevent further issues.
To view this guidance, click here.
Treat the problem
To treat the causes of mould, click here for a helpful guide on prevention and removal.