#AskTDS: "My boiler stopped working over Christmas – can I claim compensation from my deposit?"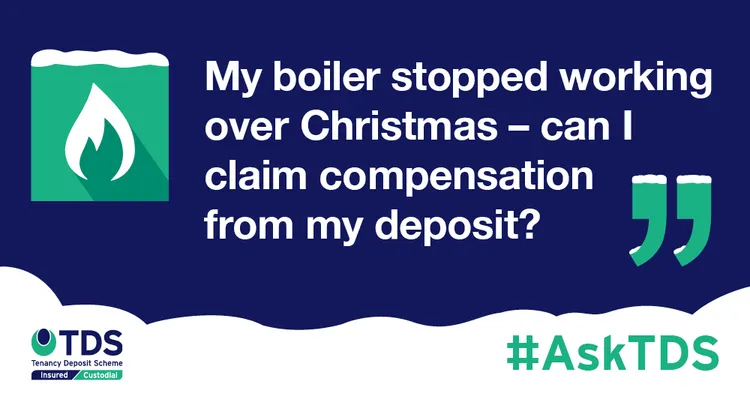 This article has been written in response to a tenant's query: "My boiler stopped working over Christmas and I was left without heating or hot water – can I claim compensation from my deposit?"
A broken boiler at any time of the year is an inconvenience, over Christmas it can be particularly frustrating due to colder weather and potentially being in the house more than you would at other times of the year. You may also find that during this period, some property management companies offer a limited service.
A tenant may be tempted to immediately call in their own contractor to fix a problem as soon as it arises, however this can be problematic as the tenant may find that they are unable to claim back any expenditure if the landlord/letting agent has not authorised a call out. It is important to advise your landlord or letting agent of any problems which arise in the first instance, to avoid any unnecessary bills and allow them time to call in their authorised contractor.
We often see disputes where tenants have stopped paying their rent due to maintenance issues such as broken boilers or burst pipes. In signing the tenancy agreement the tenant agrees to pay rent and therefore withholding rent means the landlord could make a claim against the deposit for rent arrears.
TDS offer a free, impartial adjudication service where we adjudicate if the parties are unable to reach a resolution as to the return of the deposit and proposed deductions. We are unable to form judgements on matters that are unrelated to your deposit including compensation and counterclaims from either party involved in the dispute. If you want to bring a claim for compensation against your landlord you should seek independent legal advice on how best to resolve the issues.
---
"Should I go to court rather than use TDS?"
We often get asked by both tenants and landlords whether using the alternative dispute resolution offered by TDS is compulsory. Either party may go to court if they prefer; we can only deal with a dispute if both tenant and landlord agree they want us to. If the parties are unable to reach an agreement where deductions are being made from a deposit but the dispute involves various counterclaims or set offs, going to court may mean that all of the concerns are dealt with together. If a party does not wish to use TDS' adjudication service, they can withdraw their consent for us to deal with it and we will await a court order detailing how the deposit should be distributed.
---
The Tenancy Deposit Scheme (TDS) is a government approved scheme for the protection of tenancy deposits; we offer both insured and custodial protection. We also provide fair adjudication for disputes that arise over the tenancy deposits that we protect.
TDS can only comment on the process for our scheme, other deposit protection schemes may have a different process/require different steps. Content is correct at the time of writing.