#AskTDS: I'm considering renting to tenants with a pet, what do I need to know?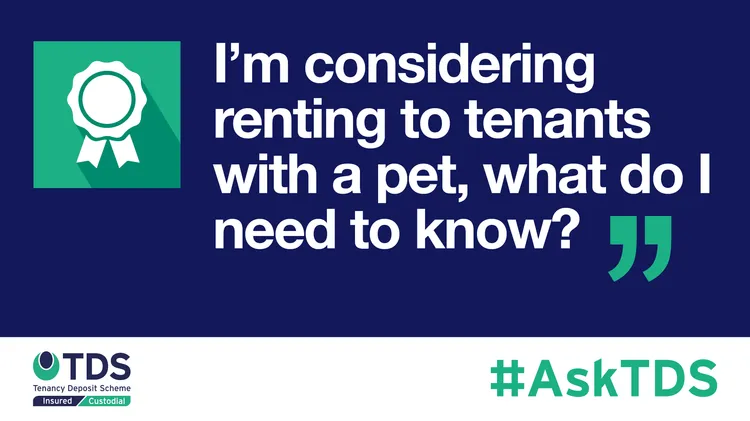 A recent spike in demand for pets, as a result of lockdown, has meant that more landlords and agents are faced with the decision of whether to rent to tenants with pets. As 44% of people in the UK own a pet, being knowledgeable about your rights and obligations as a landlord or agent is important if you are looking to rent out properties to pet owners.
New Model Tenancy Agreement
The Government has now updated its model tenancy agreement template to enable tenants to keep pets as the default. Under the new Model Tenancy Agreement (that is recommended by the Government), landlords can no longer issue blanket bans on pets. Instead, landlords will need to actively object, in writing, within 28 days of a written pet request from a tenant and provide a good reason. This could be, for example, the property being too small meaning it would be impractical to keep a pet. If consent is given on the condition that an additional deposit is paid by the tenant, the total deposit must not breach the deposit cap introduced under the Tenant Fees Act 2019 (for tenancies in England only) and must be protected in an authorised tenancy deposit scheme such as TDS.
With this in mind, Tenancy Deposit Scheme (TDS) has released a helpful 'Pets in Rented Properties' guide for landlords, agents and tenants. The guide is perfect for agents and landlords who need more knowledge on renting to tenants with a pet and how they not only prepare but overcome any issues that could arise. You can download the full guide by clicking here.
The new guide provides in-depth information that will help landlords and agents to prepare properly when renting to pet owners. It also offers great advice on how they can protect themselves from disputes at the end of tenancy.
What damage can you prepare for?
The guide reveals the ways pets can cause damage to rented properties, covering everything from stained carpets to damaged lawns. By being aware of the risks associated with pets in properties, you can ensure the tenancy agreement, check-in/out and inspection reports pay particular attention to key areas.
You'll find essential tips on pet clauses and best-practice inventory reporting in the guide, which can help to avoid deposit disputes at the end of the tenancy.
Frequently asked questions
Although pet disputes are not amongst the most common, at TDS we have seen a few cases that have been related to pets and have used this experience within this guide. Understandably, landlords and agents have many questions about pets in properties. The guide includes expert answers to the most frequently asked questions including:
Can I charge a higher rent to tenant pet owners?
Is a breach of the pet clause enough to claim for a deposit deduction for damage?
Do I have to allow pets in my property?
My tenant has a pet in the property without permission – what do I do?
Advice for tenants
The guide also covers advice for tenants with information on their responsibilities as pet owners and what they can do to minimise damage. For tenants looking for help convincing their landlord to accept pets, there is guidance on background information that should be provided. For example:
Provide details of the pet's breed (whether it sheds hair, is hypoallergenic, is large or small, etc.) with confirmation that is not listed under the Dangerous Wild Animals Act or Dangerous Dogs Act;
Include a profile of your pet with details about whether it has been treated for fleas, when it was vaccinated, if it has been neutered, whether it is microchipped and if it has been trained;
Demonstrate your pet's past behaviour by providing a reference from a recent landlord.
The 'Pets in Properties' Guide is now available to download for free at the TDS Information Lounge: Download Here.
We also have more pet related guidance available that all parties can learn from including real pet related case studies. To find out more please click here.
---
About TDS
Tenancy Deposit Scheme (TDS) is a Government-approved scheme for the protection of tenancy deposits; TDS offers both Insured and Custodial protection and provides fair adjudication for disputes that arise over the tenancy deposits that we protect.
TDS Academy: We provide invaluable training in tenancy deposit protection and disputes for agents and landlords through the TDS Academy as well as joining with MOL to provide the Technical Award in Residential Tenancy Deposits. Click here to see upcoming TDS Academy dates.
TDS can only comment on the process for our scheme; other deposit protection schemes may have a different process/require different steps. Content is correct at the time of writing.
These views are those of the author alone and do not necessarily reflect the view of TDS, its officers and employees.