#AskTDS: "I am renting for the first time, why do I have to pay a deposit?"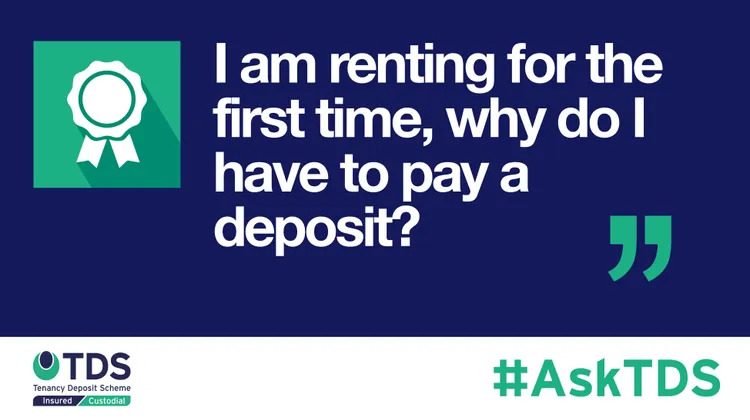 This article has been written in response to a tenant's query: "I am renting for the first time, why do I have to pay a deposit?"
A deposit is an amount of money that you pay to your landlord/letting agent as a protection to cover any rental arrears or damage to the property or its content at the end of the tenancy.
The amount of the tenancy deposit will be agreed and paid before the contract starts and is usually equal to a month/6 weeks rent; however, this amount may differ depending on the tenancy. For example, an additional deposit may be requested if pets are included in your tenancy to cover any additional damage caused by the pet. There is no legal restriction to the amount of deposit that landlords can ask for.
Your landlord should confirm what the deposit covers and this is normally set out in your tenancy agreement. The tenancy agreement should also include a list of your responsibilities as a tenant. If these responsibilities are not followed, the landlord may be able to keep part of or all of your deposit.
"How do I know that my deposit is safe until my tenancy ends?"
Your landlord will be responsible for protecting your deposit with a government-approved deposit protection scheme within 30 days of you paying your deposit.
You will know that your deposit has been protected because you will be issued with prescribed information that outlines the details of where your deposit has been protected.
Please click the button below to read our guide 'What is the Tenancy Deposit Scheme' to get some more information about The Tenancy Deposit Scheme and Deposit Protection:
---
About TDS
Tenancy Deposit Scheme (TDS) is a Government-approved scheme for the protection of tenancy deposits; TDS offers both Insured and Custodial protection and also provides fair adjudication for disputes that arise over the tenancy deposits that we protect.
We provide invaluable training in tenancy deposit protection and disputes for agents and landlords through the TDS Academy as well as joining with MOL to provide the Technical Award in Residential Tenancy Deposits.
TDS Insured Scheme: where a TDS member can hold the tenancy deposits as stakeholder during the term of the tenancy.
TDS Custodial Scheme: where TDS hold the deposit for the duration of the tenancy.
TDS Academy: TDS provides property professionals with invaluable training in tenancy deposit protection and tenancy deposit disputes.
TDS Northern Ireland: TDS is Northern Ireland's leading and only not for profit tenancy deposit protection scheme.
TDS can only comment on the process for our scheme, other deposit protection schemes may have a different process/require different steps. Content is correct at the time of writing.
These views are those of the author alone and do not necessarily reflect the view of TDS, its officers and employees.