#AskTDS: "How does the deposit cap affect TDS members in England?"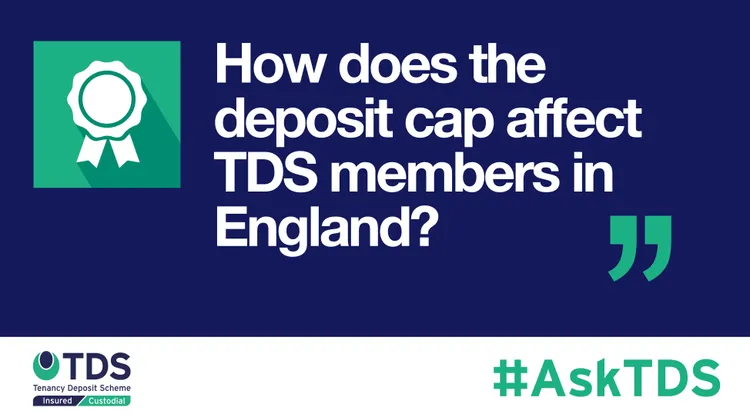 In this week's #AskTDS blog, we answer an agent's question: "How does the deposit cap affect TDS members in England?"
The Tenant Fees Act came into force on 1st June 2019 in England, the Tenant Fees Bill 2017-19 to give it it's official name, covers what letting agents are permitted to charge as letting associated fees and in addition the capped level of tenancy deposit that can be taken. The deposit cap has limited the amount of deposit that can be taken for a tenancy to 5 weeks' rent where the annual rent is up to £50,000. For those tenancies where the annual rent exceeds £50,000, the deposit is capped at six weeks' rent.
Initially only new tenancies that are entered into after the 1 Jun 2019 are affected, so those already renting may not see any change at first, but everyone in the private rented sector should be aware of what it will mean for them.
TDS have a responsibility to ensure that our letting agent, landlord and tenant customers are made aware of what it means for them and we have created a dedicated webpage to help.
---
Our partner organisations, the Residential Landlords Association (RLA), ARLA Propertymark, and RICS are publishing guidance for their members too.
Further information on the progress of the bill and what it entails can be found on the UK government website.
For more information on how the deposit cap might affect deposits, you can contact the TDS team.
---
---

About TDS
Tenancy Deposit Scheme (TDS) is a Government-approved scheme for the protection of tenancy deposits; TDS offers both Insured and Custodial protection and also provides fair adjudication for disputes that arise over the tenancy deposits that we protect.
We provide invaluable training in tenancy deposit protection and disputes for agents and landlords through the TDS Academy as well as joining with MOL to provide the Technical Award in Residential Tenancy Deposits.
TDS Insured Scheme: where a TDS member can hold the tenancy deposits as stakeholder during the term of the tenancy.
TDS Custodial Scheme: where TDS hold the deposit for the duration of the tenancy.
TDS Academy: TDS provides property professionals with invaluable training in tenancy deposit protection and tenancy deposit disputes.
TDS Northern Ireland: TDS is Northern Ireland's leading and only not for profit tenancy deposit protection scheme.
TDS can only comment on the process for our scheme, other deposit protection schemes may have a different process/require different steps. Content is correct at the time of writing.
These views are those of the author alone and do not necessarily reflect the view of TDS, its officers and employees.