#AskTDS: "Do I need to log keys in my inventory?"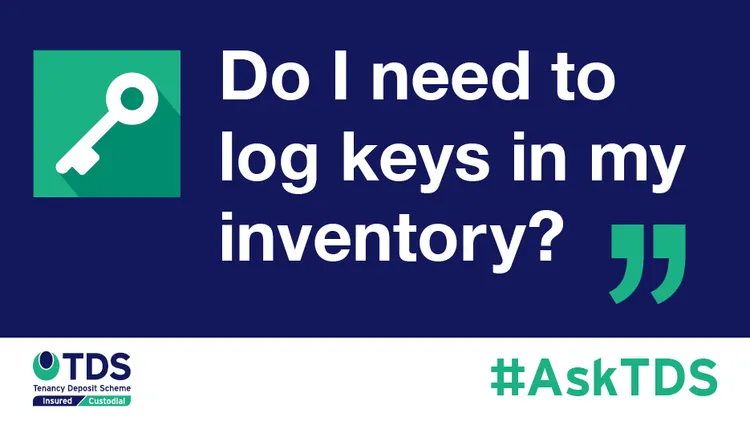 This article has been written in response to a landlord's query: "Do I need to log keys in my inventory?"
At the beginning of a tenancy, there are various documents that should be given to a tenant. Although there are some, like the Prescribed Information and the Scheme Leaflet, which are required by law, it is also important to have additional key documents such as an inventory.  This documents the condition and cleanliness of the property and its contents at the start of the tenancy.
At the end of the tenancy, a check-out report should be undertaken and it is good practice to invite the tenant to the check-out so that any problems with the condition of the property can be discussed. In the event of a dispute however, the inventory and check-out reports can be compared to provide evidence of what has changed in the property during the tenancy.
TDS sees varying types of inventories in terms of layout and content, but the important thing is to consider where issues might arise and ensure there is sufficient information on these items.
Keys are often overlooked in the inventory process, but the inventory is a good place to record the types and number of keys given to the tenant(s).  Particular note should also be made of specialist keys and fobs for garages or communal gates Good practice would be to describe and photograph all keys and fobs in the inventory and then note what is returned in the check-out report at the end of tenancy.
Some flat or apartment complexes, particularly student accommodation, can involve keys for multiple sections of a building leading to high costs if locks need to be changed and new keys produced for all occupants. Fobs or remote controls for parking garages or property gates are also becoming more common and are often costly to replace. Agents and landlords should ensure that tenants are made aware of any extra costs that could be incurred if keys or fobs are lost during the tenancy. They should also ensure that it is noted in the deposit use clause in their tenancy agreements.
At TDS, claims concerning missing keys are common although they take a few different forms. If the tenant has not returned all the keys for a property, then a charge for cutting replacement keys would be a reasonable claim. Sometimes agents or landlords submit claims for a full change of the locks or the barrel of the lock arguing that the property is no longer secure. TDS will always look at each claim on its individual merits.  However, claims for replacement locks are more likely to be successful if there is evidence that the lock was damaged.
About TDS
Tenancy Deposit Scheme (TDS) is a Government-approved scheme for the protection of tenancy deposits; TDS offers both Insured and Custodial protection and also provides fair adjudication for disputes that arise over the tenancy deposits that we protect.
We provide invaluable training in tenancy deposit protection and disputes for agents and landlords through the TDS Academy as well as joining with MOL to provide the Technical Award in Residential Tenancy Deposits.
TDS Insured Scheme: where a TDS member can hold the tenancy deposits as stakeholder during the term of the tenancy.
TDS Custodial Scheme: where TDS hold the deposit for the duration of the tenancy.
TDS Academy: TDS provides property professionals with invaluable training in tenancy deposit protection and tenancy deposit disputes.
TDS Northern Ireland: TDS is Northern Ireland's leading and only not for profit tenancy deposit protection scheme.
TDS can only comment on the process for our scheme, other deposit protection schemes may have a different process/require different steps. Content is correct at the time of writing.
These views are those of the author alone and do not necessarily reflect the view of TDS, its officers and employees.
ARLA|Propertymark: For agents who would like to stay up to date, you can contact Propertymark | ARLA at: join@propertymark.com. By being a member of Propertymark | ARLA you will be eligible for TDS Insured best headline rates.
RLA: If you are a landlord and would like to keep up to date with any changes that may affect you or your responsibilities, you can contact the RLA at: info@rla.org.uk and quote reference: dg715 to receive 25% off your first year's membership.