#AskTDS: "Do I have to re-register my tenancy deposits every year?"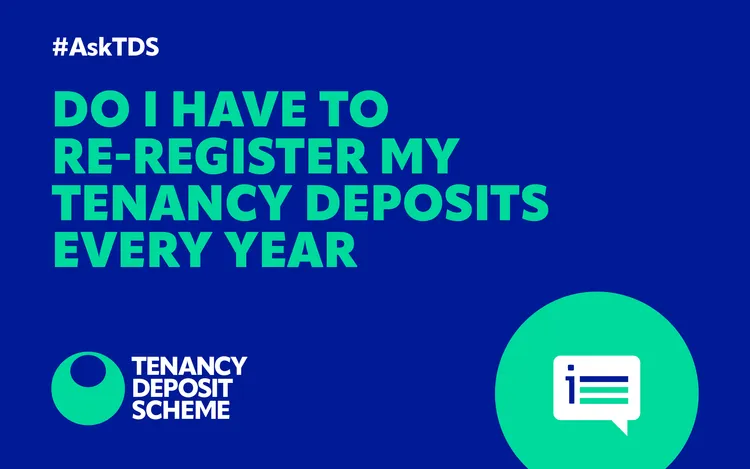 This article has been written in response to a landlord's query: "Do I have to re-register my tenancy deposits every year?"
Landlords who are members of the TDS Insured scheme pay a deposit protection charge for each deposit they protect with us. This charge covers the whole of a fixed-term tenancy and any statutory periodic tenancy that follows it if there are no material changes to the terms. In other words – one charge for the life of the tenancy.
In the Insured scheme, a new deposit protection charge is payable if:
There is a material change in the terms during a fixed-term tenancy or during a periodic tenancy, or
The terms of a periodic tenancy are materially different from the terms of a preceding fixed term tenancy (e.g. change to the amount of the deposit or a change in the parties), or
A fixed-term tenancy is renewed, even if the renewal is on the same terms as the previous tenancy.
For those tenancies that 'roll over' into a periodic tenancy, without any substantive changes, there is no need to re-register the deposit at the end of the fixed term. There is also no need to pay another charge.
There is no charge to register and protect deposits with the TDS Custodial scheme.
In this case, deposits are protected until either party notifies us that the tenancy has come to an end. There is also no requirement to inform TDS when a new tenancy agreement is signed, if the terms remain unchanged and the deposit amount remains the same.
However, if there is a change in circumstances, with a change of tenant(s) for example, landlords would have to notify TDS. We have straightforward processes in place for dealing with these changes.
It's quick and easy to register deposits with us, and unless things have changed with a tenancy, there is no need to re-protect or pay additional fees. Quick and easy deposit protection – it's what TDS is here for.
---
About TDS
The Tenancy Deposit Scheme is part of The Dispute Service (TDS), the largest tenancy deposit protection (by value) and resolution service provider in the UK making life easier for tens of thousands of agents, landlords, developers, and millions of tenants and homebuyers.
Our award-winning customer service is highly rated on both Trustpilot and Google, and we're backed by the NRLA.
We offer free deposit protection in our Custodial scheme, and the lowest rates for landlords in our Insured scheme.
---