#AskTDS: "What is the difference between professional and domestic cleaning?"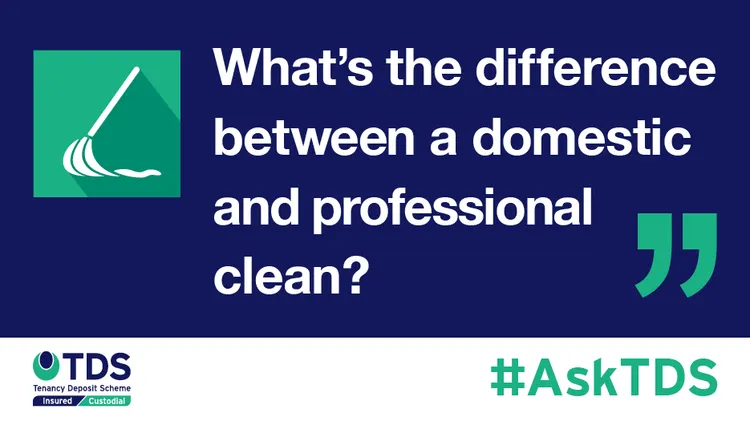 In this week's #AskTDS, we answer a common question that we hear from tenants: "what is the difference between professional and domestic cleaning?".
Cleaning is very subjective as one person's view of cleanliness can often differ from another's. It is important that tenants are aware that the condition of a property in respect of cleaning is not subject to fair wear and tear. This means even if something was damaged when you moved in, it should still be clean when you move out.
Do I need to pay for a cleaner when I move out?
Tenancy agreements can state that a property should be cleaned to a 'professional standard' at the end of a tenancy; however, this does not necessarily mean you must use a professional cleaner. In fact, landlords or their letting agents cannot insist that a tenant must use a professional cleaner. If you are able, you could clean the property yourself; remember though, over half of all tenancy deposit disputes that we receive at TDS include claims for some element of cleaning. We have listed below some top tips to help you understand what 'cleaned to a professional standard' entails, there is no guarantee you'll avoid a dispute.
What does clean to a professional standard entail?
Cleaning to a professional standard generally means cleaning the property to a high standard, better than a general domestic clean. Imagine wiping every surface including covered spaces such as under sofas, or behind doors while wearing white gloves.
Professional cleaning will also cover the cleaning of items such as the extractor fan grills, dusting light bulbs and cleaning the windows, along with all edges and ledges
Here are some of the tasks you might be expected to complete if cleaning to a professional standard:
Empty all rubbish and replace rubbish bags
Remove cobwebs, dust skirting boards
Dust ceiling fans and light fixtures
Clean window sills and wipe down doors
Dust all furniture including bottoms and sides
Clean all glass surfaces including smudges on windows
Clean and disinfect bathrooms (dust light bulbs and wipe down cabinets)
Sweep, vacuum or mop all floors
Clean kitchen (including inside microwave, top of refrigerator)
Defrost fridge/freezer and deep clean the oven, hob and extractor
Wipe down kitchen cabinet facings
Polish all glass surfaces and stainless steel in kitchen
This is a long list, but professional cleaning services provided by a contractor can be expensive, so tenants could save themselves from a cleaning charge if they spend the time and effort to clean as thoroughly as they can.
What will the landlord do if I clean, but not to a professional standard?
There is no 'one size fits all' answer to this as it depends on the state of the property at the start and end of the tenancy, what is detailed in the tenancy agreement and a lot of other factors. For simplicity's sake, let's make a few assumptions. First, if the tenancy agreement requires that the property must be cleaned to a professional standard and that the property was noted as 'cleaned to a professional standard' in the check-in report. Let's also assume that while the property is clean on the check-out report, there are areas that weren't cleaned to a professional standard – e.g. the oven wasn't cleaned, and the shower had the early signs of mould in the grout.
In this case, the landlord would be able to make a good case for a claim for a compensatory amount to be deducted from the tenancy deposit. Therefore, it's important for tenants to be aware of the cleaning standard of the property at the start of the tenancy and ensure this is noted in the inventory check-in report, a critical record of the property's condition.
You might find this article regarding when a landlord can charge a tenant for cleaning a useful resource.
For more tenant tips, please visit our tenant FAQ page.
About TDS
Tenancy Deposit Scheme (TDS) is a government-approved scheme for the protection of tenancy deposits; TDS offers both Insured and Custodial protection and also provides fair adjudication for disputes that arise over the tenancy deposits that we protect.
We provide invaluable training in tenancy deposit protection and disputes for agents and landlords through the TDS Academy as well as joining with MOL to provide the Technical Award in Residential Tenancy Deposits.
TDS Insured Scheme: where a TDS member can hold the tenancy deposits as stakeholder during the term of the tenancy.
TDS Custodial Scheme: where TDS hold the deposit for the duration of the tenancy.
TDS Academy: TDS provides property professionals with invaluable training in tenancy deposit protection and tenancy deposit disputes.
TDS Northern Ireland: TDS is Northern Ireland's leading and only not for profit tenancy deposit protection scheme.
TDS can only comment on the process for our scheme, other deposit protection schemes may have a different process/require different steps. Content is correct at the time of writing.
These views are those of the author alone and do not necessarily reflect the view of TDS, its officers and employees.
ARLA|Propertymark: For agents who would like to stay up to date, you can contact Propertymark | ARLA at: join@propertymark.com. By being a member of Propertymark | ARLA you will be eligible for TDS Insured best headline rates.
RLA: If you are a landlord and would like to keep up to date with any changes that may affect you or your responsibilities, you can contact the RLA at: info@rla.org.uk and quote reference: dg715 to receive 25% off your first year's membership.