#AskTDS: "Devilish decor: will my landlord make deductions for damage caused by Halloween decorations?"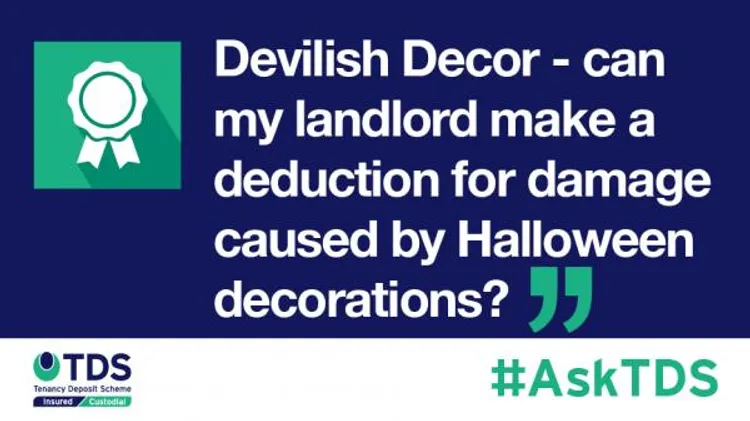 In this week's #AskTDS, we answer a tenant's question: "Will my landlord make deductions for damage caused by Halloween decorations?"
Homeowners and tenants like to put decorations up around their homes at this time of year to celebrate a variety of occasions, such as Halloween. While decorations can really bring a celebration or party to life, tenants need to consider the consequences for their tenancy deposit.
We often read about claims for a deduction from the tenancy deposit for damage to walls, ceilings and furniture caused by blu-tack marks, sticky tape or holes where nails, hooks or drawing pins have been used to secure those ghoulish additions. So let's clear a few things up…
The tenancy agreement document will hold the answer. In a good tenancy agreement, the responsibilities of the tenant and landlord should be clearly outlined and will make it clear what standard the property is expected to be returned in (allowing for fair wear and tear) after the tenancy has ended.
The check-in inventory document will also help provide clarity – it should be an accurate record of the condition of the property at the outset of the tenancy and, ideally, include supporting photographic evidence. In the event that a landlord or letting agent wishes to make a deduction from the tenancy deposit, the tenant could dispute the claim and it would be the responsibility of the landlord or letting agent to show where the condition has changed.
There may be disagreements over whether marks from hanging decorations counts as damage or fair wear and tear as this can be subjective. So, to make sure that you know where you stand in this respect, we recommend contacting your landlord or letting agent in advance of making any changes to the property – including how decorations can be displayed while it's your home.
Alternatively, if you have already strung up your skeletons and fake cobwebs, you might be better off fixing those damaged areas and returning it to the landlord in the same condition, including cleaning blu-tack marks, before your tenancy ends; this will help you avoid incurring the cost of professional repairs being deducted from your deposit.
You can find out more about check-in/out reports, inventories and schedules of condition in our handy guide, available here.
About TDS
Tenancy Deposit Scheme (TDS) is a Government-approved scheme for the protection of tenancy deposits; TDS offers both Insured and Custodial protection and also provides fair adjudication for disputes that arise over the tenancy deposits that we protect.
We provide invaluable training in tenancy deposit protection and disputes for agents and landlords through the TDS Academy as well as joining with MOL to provide the Technical Award in Residential Tenancy Deposits.
TDS Insured Scheme: where a TDS member can hold the tenancy deposits as stakeholder during the term of the tenancy.
TDS Custodial Scheme: where TDS hold the deposit for the duration of the tenancy.
TDS Academy: TDS provides property professionals with invaluable training in tenancy deposit protection and tenancy deposit disputes.
TDS Northern Ireland: TDS is Northern Ireland's leading and only not for profit tenancy deposit protection scheme.
TDS can only comment on the process for our scheme, other deposit protection schemes may have a different process/require different steps. Content is correct at the time of writing.
ARLA|Propertymark: For agents who would like to stay up to date, you can contact Propertymark | ARLA at: join@propertymark.com. By being a member of Propertymark | ARLA you will be eligible for TDS Insured best headline rates.
RLA: If you are a landlord and would like to keep up to date with any changes that may affect you or your responsibilities, you can contact the RLA at: info@rla.org.uk and quote reference: dg715 to receive 25% off your first year's membership.