#AskTDS: "Can I claim for Christmas tree damage and mess?"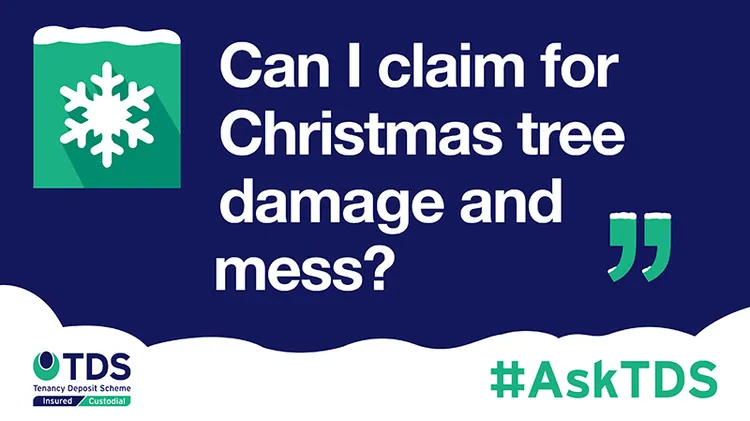 In this week's #AskTDS, John King, Director of Customer Service at TDS, answers a landlord's question – "Can I claim for Christmas tree damage and mess?". 
For many, the arrival of 'the most wonderful the time of the year' means decorating and accessorising their homes in order to celebrate that festive feeling and for some, a real Christmas tree is a must. Despite the desire to introduce that traditional accessory into the property, it could bring issues over cleaning and damage at the end of the tenancy.
TDS recently dealt with a tenancy deposit dispute case where a tenant had a real Christmas tree in the property, leaving pine needles to be cleaned up and marks to be removed from the flooring where the base of the tree had been.
The landlord claimed £35.00 for the cost of cleaning the carpet and an additional £35.00 for the cleaner to remove the pine needles. The tenants, however, had claimed that they had sought permission from the landlord to have a real tree in the residence which was granted, and had even paid for a cleaner themselves. What damage was left was what they claimed to be the expected wear and tear from a real tree.
Our Adjudicator worked from a starting point that the carpet should be returned to the landlord in the same state of condition and cleanliness that the tenants had found it when they moved in, save for the natural deterioration associated with the property having been lived in. Damage from the tree was not considered to be normal, and pine needles should have been removed despite the time and effort this may take.
In coming to a decision, the Adjudicator felt it fair that deductions to the tenancy deposit were made as although it was not clear what works the tenants had paid their cleaner to do, the residual marks had not been removed from the carpet. It may have been that the landlord would be entitled to charge for a contribution to any damage identified but fortunately for the tenant, this was not the case; the landlord was entitled to claim for the extra time it took their cleaner to remove pine needles and any specialist cleaning to the carpets, which was successful.
As always, a clearly written tenancy agreement which reliable clauses along with supportive check-in/check-out reports are vital to avoid these sorts of disagreements. Tenants should make plans to lessen any chance of damage. If it's going to be too difficult or potentially damaging to maintain or clean up after, then another sort of tree may help to maintain that festive feeling.
About the Author 
John King is a former practitioner in the lettings industry with over 25 years' experience with a keen understanding of the Private Rental Sector. In addition to his work in estate agency, John has worked within tenancy deposit protection since 2009 starting in the adjudication team before moving into customer services and has recently moved from Deputy Director to Director in our key customer facing team.
John has presented training seminars, forums and industry events and has been involved in the successful TDS Academy training programme offered throughout England and Wales and operates a team of customer service advisors to assist with customer enquiries.
Advocating improvement through education and understanding John appreciates the ups and downs of a tenancy transaction experienced by all the parties. He brings knowledge, consideration and practicality to encourage the stakeholders involved to seek an acceptable solution to tenancy deposit disagreements and access Alternative Dispute Resolution where required.
About TDS:
Tenancy Deposit Scheme (TDS) is a Government approved scheme for the protection of tenancy deposits; TDS offers both Insured and Custodial protection and also provides fair adjudication for disputes that arise over the tenancy deposits that we protect.
We provide invaluable training in tenancy deposit protection and disputes for agents and landlords through the TDS Academy as well as joining with MOL to provide the Technical Award in Residential Tenancy Deposits.
TDS Insured Scheme: where a TDS member can hold the tenancy deposits as stakeholder during the term of the tenancy.
TDS Custodial Scheme: where TDS hold the deposit for the duration of the tenancy.
TDS Academy: TDS provides property professionals with invaluable training in tenancy deposit protection and tenancy deposit disputes.
TDS can only comment on the process for our scheme, other deposit protection schemes may have a different process/require different steps. Content is correct at the time of writing.
These views are those of the author alone and do not necessarily reflect the view of TDS, its officers and employees.
ARLA|Propertymark: For agents who would like to stay up to date, you can contact Propertymark | ARLA at: join@propertymark.com. By being a member of Propertymark | ARLA you will be eligible for TDS Insured best headline rates.
RLA: If you are a landlord and would like to keep up to date with any changes that may affect you or your responsibilities, you can contact the RLA at: info@rla.org.uk and quote reference: dg715 to receive 25% off your first year's membership.