Ask TDS: "If one tenant moves out, what happens to the shared deposit?"
The Tenancy Deposit Scheme (TDS) is a government approved a scheme for the protection of tenancy deposits; we offer both insured and custodial protection. We also provide fair adjudication disputes that arise with the tenancy deposits that we protect. This article has been written in response to a tenant's query: "If one tenant moves out, what happens to the shared deposit?"
---
Tenants in shared housing may wish to move out for any number of reasons, maybe the housemates have fallen out, or a new job offer means one has to move. In most cases the landlord will allow a tenant to break their contract and leave on the condition that they find a replacement tenant. So if you find a new tenant, you can just switch – right?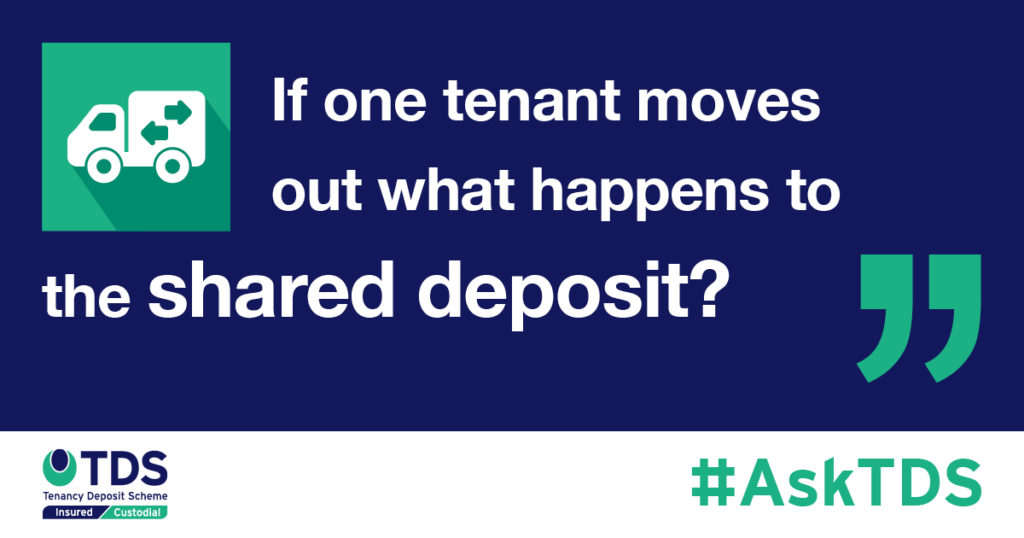 This sounds like a simple process but what happens to your deposit, and the tenancy agreement?
I've found someone to replace me, so they can just pay me my deposit and the landlord can keep the money I paid
The incoming tenant paying the portion of the shared deposit to the outgoing tenant would seem to work, as they would essentially be 'buying out' the outgoing tenant. In reality this would be a bad move for both the tenants and the landlord.
What if the outgoing tenant did some damage, which at the end of the tenancy the landlord claims for? The current tenants would lose money, but the outgoing tenant receiving the full amount of their share.
What if the new tenant changes their mind, they aren't named on the tenancy agreement so what is to keep them from just leaving?
There is also the matter of the deposit protection paperwork.
Best Practice Guide for change of tenant
The best method for changing tenants is to bring the tenancy to an end. This will allow the landlord to inspect the property and decide if they will return the deposit in full or if there are claims to be made.
The new tenant, and the tenants who are staying would then sign a new agreement and the deposit would be protected from that date with the new tenants listed. It is important that the deposit protection is reprotected, not just edited as this could leave the landlord open to a claim from the leaving tenant.
Essentially these are the steps you will need to take:
Repay any amount due to the outgoing tenant (may be £0).
Repay any amount due to the landlord (may be £0).
Remove the outgoing tenant's claim to the protected deposit because they are not due any amount.
Add incoming tenant(s) to the deposit protection (sometimes no-one will be moving in).
At TDS we have created a 'how-to' guide for those using TDS insured, which you can find here.
In our Custodial scheme, we have a unique feature which allows you to perform a 'tenant switch' without having to repay the full amount and then re-protect the deposit.
---
Switching tenants in an on-going tenancy can bring about potholes for landlords. Tenants hoping to switch should therefore be prepared to sign a new tenancy agreement and go through the process of having their deposit protected again. New inventories or check-in/out reports may also be needed.