#AskTDS: "I am renting for the first time – how do I know if my deposit will be protected?"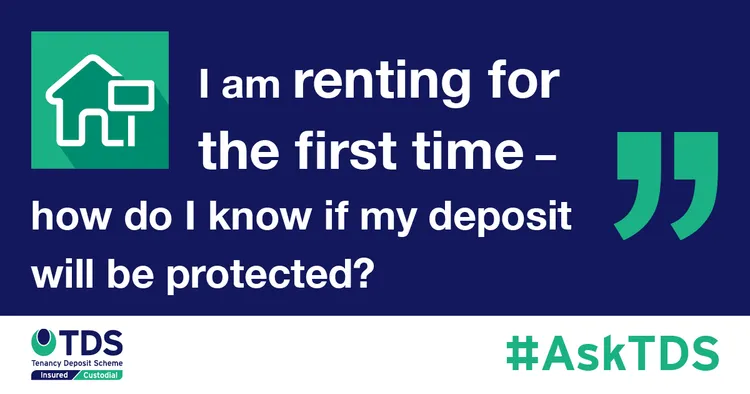 This article has been written in response to a tenant's query: "I am renting for the first time – how do I know if my deposit will be protected?"
The simplest way to reassure yourself is to ask your prospective landlord or letting agent which deposit scheme they use, and if that will be the scheme they will be using to protect your deposit if you take the property.
The law requires a landlord or letting agent to register assured shorthold tenancy deposits within 30 days of receiving the deposit from you as the tenant.  The law goes on to insist that the landlord must give the tenant Prescribed Information which outlines how that deposit has been protected.
This Prescribed Information includes key information about your deposit, such as:
the address of the rented property
how much deposit you've paid
the name and contact details of the tenancy deposit protection (TDP) scheme and its dispute resolution service
the landlord's (or the letting agency's) name and contact details
the deposit scheme's leaflet detailing their procedures, and adjudication service
Tenants can check if their deposit is registered with The Tenancy Deposit Scheme (TDS) by visiting www.tenancydepositscheme.com and entering their surname, the deposit amount, the tenancy postcode, and the date their tenancy started.
"I paid a deposit for my room in the student halls but I don't think my deposit has been registered with an approved scheme, what should I do if it has not been protected?"
Only deposits taken for assured shorthold tenancies are required to be protected by an approved scheme.  A deposit taken from a student in university-owned halls or residence is exempt from deposit protection legislation.
---
The Tenancy Deposit Scheme (TDS) is a government approved scheme for the protection of tenancy deposits; we offer both insured and custodial protection. We also provide fair adjudication for disputes that arise over the tenancy deposits that we protect.
TDS can only comment on the process for our scheme, other deposit protection schemes may have a different process/require different steps. Content is correct at the time of writing.