Ask TDS: "Do private landlords hold your deposit in a deposit scheme?"
The Tenancy Deposit Scheme (TDS) is a government approved scheme for the protection of tenancy deposits; we offer both insured and custodial protection. We also provide fair adjudication for disputes that arise over the tenancy deposits that we protect. This article has been written in response to a tenant's query: "Do private landlords hold your deposit in a deposit scheme?"
---
When it comes to deposits, tenants can worry about the safety of handing over a lump sum – however with tenancy deposit protection in place there is little need to be concerned. The tenant has redress through the courts if a landlord does not protect their deposit, and can be awarded up to 3 times the value of the deposit. Furthermore, disputes occur in less than 1% of tenancies – meaning that more than 99% of tenancies end with both parties agreeing on what should happen to the deposit at the end of the tenancy.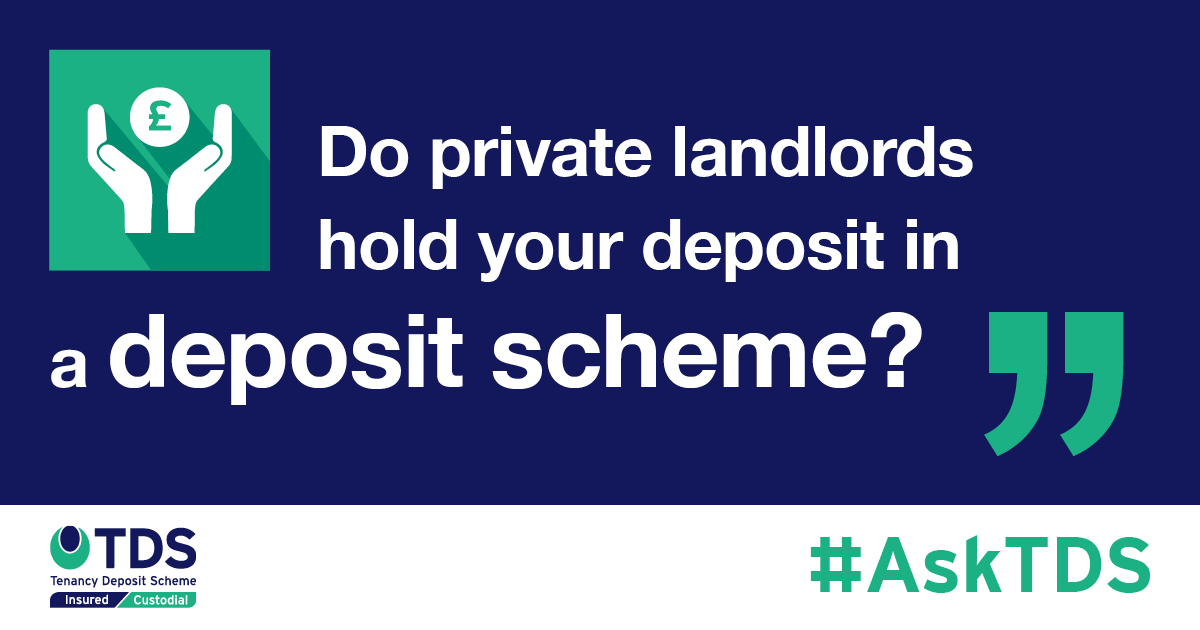 Can the landlord keep my deposit in their personal account?
If a landlord chooses to use an insurance based scheme then they will be able to hold the deposit in an account of their choosing. This is no less secure than if they paid it into a custodial scheme, due to the insurance nature of this type of deposit protection – should anything happen to the funds, the deposit protection scheme will ensure that repayment is made at the end of the tenancy.
How do I find out where my deposit is?
You should be provided with a deposit protection certificate which should tell you which scheme your landlord used. It will also give you a unique code that relates to your protection. This should give you all the information you need to locate where your deposit has been protected.
Your landlord must also provide you with what is known as 'Prescribed Information'. This is key information about how much your deposit is, the circumstances in which it may be retained at the end of the tenancy, and the tenancy deposit scheme's procedures, contained in the scheme leaflet.
If you do not receive this information from your landlord (or agent) then this recent blog may be useful.
Can I tell my landlord which scheme to use?
No, the choice of deposit scheme is up to your landlord, or agent if the property is managed by an agent. It may be that they have other deposits all registered with the same scheme or they have had training with certain scheme and so they find it convenient.
If you are concerned you can check an agent's website to see which scheme they use – many will list this on their website – or ask your landlord or agent directly.
---
Tenancy Deposit Protection is designed to protect the tenant's money and the landlord's property. Deposit protection is a legal obligation of the landlord and tenants should receive confirmation of this, by way of the prescribed information, within 30 days.
For more information on deposit protection please view our other blogs. To see if your deposit has been protected by the Tenancy Deposit Scheme please visit here with your reference number.