#NewsStory: Tenancy Deposit Scheme enhances efficiency thanks to API integration with Proman Technology Services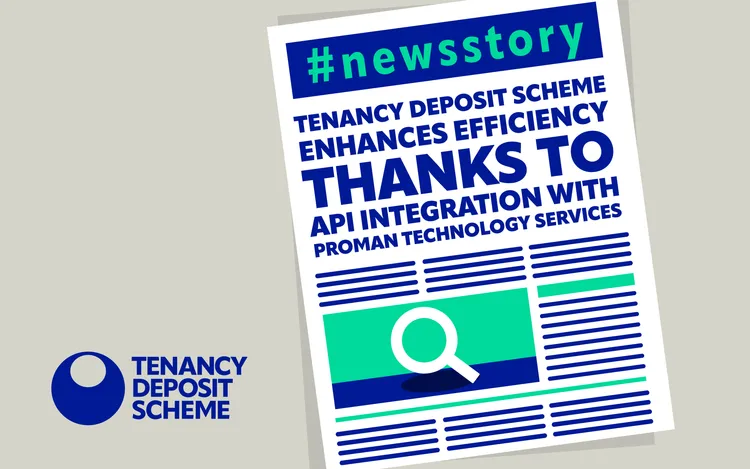 The Tenancy Deposit Scheme has announced its integration with Proman Technology Services (PTS), a leading software provider in the property lettings sector, to automate deposit registrations with it's effective API solution.
Proptech Solution for Letting Agents
The API is designed to make life easier for agents when they register deposits.
The time-consuming task of duplicating deposit data from a CRM system onto a deposit scheme platform has always been an admin-heavy process. With our API, agents no longer need to spend time manually inputting this data.
Partnership that Simplifies the Deposit Protection Process
"Proman has worked closely with TDS since their inception" says Oliver O'Rourke from Proman Technology services, "And now, our upgrade from the Tenancy Deposit Scheme's FTP file exchange integration to their latest API builds on this cooperation, and provides our shared clients with a simple, secure and efficient deposit administration and easy reconciliation."
The integration is available to all TDS agent customers in both Custodial and Insured schemes, as well as clients of Proman.
Effective Modern Systems for the Property Management Sector
Specialising in providing comprehensive solutions for property lettings and management, Proman have been developing responsive and effective ways to meet the changing needs of the industry since 1988.
Proman's services are designed to help businesses improve efficiency and reduce costs, while also providing an intuitive user experience.
The company's continued success in the market is built on solid foundations of expertise in the computer industry, combined with an in-depth knowledge and understanding of property lettings & management, and the accounts needed to meet the rigorous demands of financial regulation across the sector.
Time Saving Solution
Debbie Davies, Head of Sales and Customer Success at TDS comments on this latest integration:
"We are delighted to integrate our API with Proman. This time saving solution works seamlessly with our API software and allows agents more time focusing on their core business. Proman and TDS are committed to delivering exceptional professional services and products to meet our client's requirements, this is yet another step forward in tenancy deposit management".
Is Your CRM Software Integrated With TDS API?
The API solution is available in our FREE Custodial deposit Scheme and Insured deposit scheme, which offers the best rates on the market, and it's easy to integrate; our tech team has created the API to embed in just a few steps.
Interested CRM providers can find out more about the integration process and added benefits of the integration on the TDS API information page.
Not a customer yet?
Don't worry. Joining us is easy. It only takes a few minutes to join today, or see how simple it is to switch.