#AskTDS: My landlord is claiming from my deposit for sweeping the chimney. Can they do this?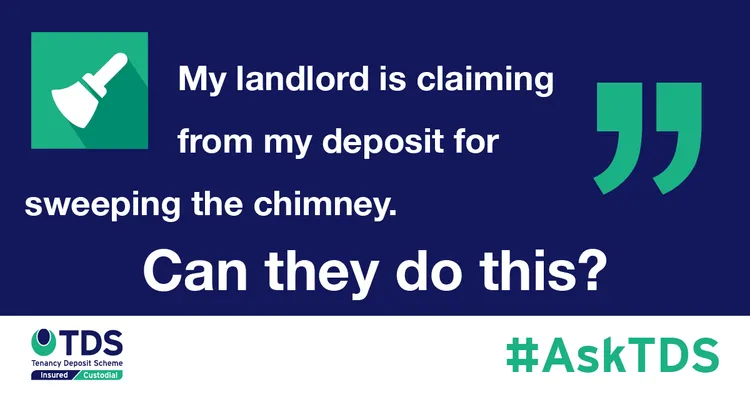 This article has been written in response to a tenant query: "My landlord is claiming from my deposit for sweeping the chimney. Can they do this?"
It is always important to check your tenancy agreement at the beginning of your tenancy for any information relating to the maintenance of fixtures and fittings in your rental property. Your tenancy agreement should state whose responsibility it is to look after areas such as these. When you move into a rental property with a fireplace and chimney it should be handed over in a safe condition. At this stage, we would advise that if the tenant is responsible for cleaning the chimney, then its condition or cleanliness should be noted in the inventory/check-in report.  The tenant should take appropriate steps to ensure the chimney is swept and left in the same condition and cleanliness at the end of the tenancy as it was at the start, whether it has been used or not.
As with any tenant obligation, landlords/agents should ensure that the deposit use clause in the tenancy agreement allows deductions to be made, from the deposit, if the tenant fails to clean the chimney as required.
If the tenant is not responsible for the cleaning of the chimney, as per the tenancy agreement, they may be required to give access to the landlord/agent, or their contractor, if cleaning is required during the term of their tenancy.
---
What about items that aren't noted as the tenant's responsibility?
We often see cases where problems have arisen that are not the responsibility of the tenant to repair; however they are still obligated to notify the landlord/agent of these issues to enable repairs and avoid further damage occurring.  Therefore if the tenant has not reported the issues to the landlord/agent and further damage has been caused as a result, there may be deductions from the deposit to compensate the landlord.
---
Finally, don't forget to make sure your chimney is clean in time for Christmas Eve in case Father Christmas wants to drop in!
---
The Tenancy Deposit Scheme (TDS) is a government approved scheme for the protection of tenancy deposits; we offer both insured and custodial protection. We also provide fair adjudication for disputes that arise over the tenancy deposits that we protect.
TDS can only comment on the process for our scheme, other deposit protection schemes may have a different process/require different steps. Content is correct at the time of writing.